Heating oil thefts 'rise' at rural homes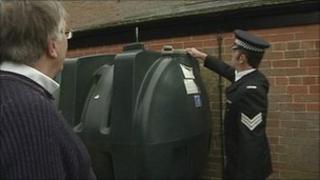 Theft of heating oil from rural homes across the UK is becoming an increasing problem, an insurer has warned.
NFU Mutual says it saw a 153% rise in claim costs in the first half of 2011, with almost £250,000 of oil stolen.
The firm said homes with no access to a mains gas supply have no choice but to struggle with rising oil prices, which makes them a target for thieves.
It suggests homeowners protect supplies with locks and alarms, or by erecting fences to hide exposed tanks.
'Violated'
Nicki Whittaker, of NFU Mutual, said: "Thieves will often damage oil tanks in the process of removing the oil.
Leaking oil can contaminate both the soil and groundwater and the homeowner may then be responsible for any specialist clean-up operation.
"Unfortunately while oil prices remain high, rural homeowners will remain a target."
She said the most expensive claim was for £30,000, of which £3,000 was for the stolen oil and £27,000 to clean up the ground contaminated by fuel spilt by the thieves.
Wiltshire-based farmer Tim Johnson said he lost around £600 of oil when thieves forced the lock off his tanker.
"We had no heating, the boiler broke down, so I called out the boiler engineer who said 'it would help if you put some fuel in your tank Mr Johnson'," he told BBC Radio 4's Farming Today programme.
"So having only filled it up three weeks previously, with 600 odd gallons of fuel, I knew that it hadn't all been used.
"The top of the lid for the tank had been forcibly removed, it had a lock on at the time, but I'm afraid they're only light weight and anyone... could smash it up."
He said in monetary terms he lost £600 in fuel and £60 for needlessly calling out a boiler engineer.
But he added: "It's the aggravation factor, feeling you've been violated.
"Every time anyone turns up now, if I'm out in the field and I can see a strange vehicle in the farmyard, I'm on the war path tearing back, stopping me doing the job I should be up to just to know that you're safe."
NFU Mutual data suggests the east of England was the worst-hit region in the first half of the year.