Lawrence trial: Gary Dobson's mother says son at home during killing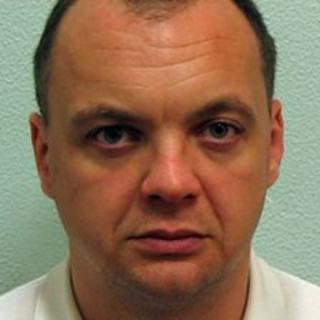 Murder suspect Gary Dobson was at home with his parents on the night black teenager Stephen Lawrence was killed, his mother has told the Old Bailey.
Pauline Dobson also said he never wore the jacket or cardigan at the heart of the case linking him to Stephen.
But in cross examination she admitted she could have got her timings wrong on when she had seen her son in the house.
Mr Dobson, 36, and David Norris, 35, deny murdering Mr Lawrence, 18, in Eltham, south-east London, in 1993.
Mrs Dobson told the jury she knew her son was at home all night and that she saw him making toast, wearing only his shorts, at the time of the attack.
Under cross-examination she said that she could not be exactly sure at what time she saw her son at home on the night of Stephen Lawrence's killing.
Stephen was attacked at approximately 22:30 GMT.
Questioned by Mark Ellison QC, prosecuting, Mrs Dobson accepted that she had originally told police she probably saw her son in the kitchen 10 to 15 minutes later than that.
Mr Ellison said: "Those 10 minutes could be extremely important because the people who attacked Stephen Lawrence could have been back in their homes by then."
Mrs Dobson said: "I'm sorry, give or take 10 minutes."
She added: "Gary never left home that night."
Racist language
And she said it had been a number of years since he had worn the jacket with Supertramp written on its back, which forms a key part of the prosecution's scientific case allegedly linking him to the attack.
The court has been told that cold case forensic teams found a speck of blood on the collar of Mr Dobson's jacket that was a billion-to-one match to Stephen's DNA but defence barristers say the evidence was contaminated.
Mr Dobson's father also gave evidence in which he said his son had been at home all night.
And Christopher Mayers, a family friend, told the court he visited the their house and the defendant had been at home on the night of the murder.
On Tuesday, a surveillance video from December 1994 showing racist rants by the two defendants was heard at their trial.
Asked how he would describe his use of the word "nigger" to describe a then workmate in the video, Mr Dobson said: "It's not something I'm proud of."
When asked by his barrister, Tim Roberts QC, why he had used the language, he said: "I don't know why I used [them]. Stereotyping I suppose."
The outburst was caught on a police surveillance video shot over several days, which shows the pair interact with various friends and acquaintances.
During cross examination by Mark Ellison QC, for the prosecution, on Wednesday, Mr Dobson agreed that he and his friends "shared and expressed racist views" among themselves at the time the tape was made.
'Bitter' young man
He said such behaviour was "inexcusable", adding that he "shocked" at the way he spoke and acted.
When asked to explain why he held why he held those views, Mr Dobson said he was "bitter and angry" because he had been abused and spat at in the street.
Before finishing his evidence, Mr Dobson denied any involvement in the murder.
Mr Ellison put it to the defendant: "You saw two black boys on your manor, on the road leading to your estate, and on that night that was a provocation, wasn't it?"
To this, Mr Dobson replied: "No".
Earlier, Mr Dobson again denied any involvement in the murder as he finished giving evidence.
The trial was adjourned until Thursday when Mr Norris will give evidence.
The judge told the jury all the evidence is likely to finish by Friday, with closing speeches expected to take place next week.