Paper review: Focus on Eurozone deal continues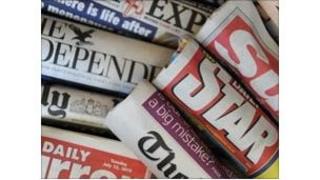 Various strands of the eurozone crisis fuel the front page leads.
The Independent claims the deal struck by 26 European countries, without Britain, to stabilise the Eurozoneis already "fraying at the edges".
David Cameron is fighting, says the Daily Express, against demands by the IMF for Britain to"stump up" £30bnto help rescue the "failing Euro".
The Guardian talks of"tension rising as the UK tries to rip up Europe deal".
'Exam cheats'
On the day the heads of Britain's main exam boards are to be cross-examined by MPs, the Daily Telegraphraises further questions about the integrityof the system.
It says it's been contacted by dozens of teachers, pupils and examiners with allegations of dubious practices, deteriorating standards and cheating.
The Timesfocuses on reportsthat as many as 10 companies are facing an investigation, led by a judge, into their tax settlements with Revenue and Customs.
Labour's elder statesman, Lord Hattersley, has a substantial article in theDaily Mail decrying the effectsof his party's decision in 2005 to relax gambling laws - enabling so-called "family friendly" casinos to open 24 hours a day.
'All pain no gain'
After Wednesday's figures showing unemployment at its worst since 1994, tthe Daily Mirror attacks the prime minister.
"With Mr Cameron it's all pain and no gain," it says, "ordinary people paying the price for the prime minister's avoidable mistakes."
The Guardian's economics editor, Larry Elliott, expects unemployment to keep rising. He calls the Employment Minister,Chris Grayling, "Dr Pangloss" for claiming thatthe labour market is showing signs of stabilising.
But given the terrible global economic background, says the Daily Express,the figures could have been worse.
Iraq conflict 'ends'
The Times and the Guardian have front page pictures of President Obama surrounded by paratroopers during a visit to a military base in North Carolina - as he declared the end of the Iraq conflict and called it a "success".
That'snot quite how the Guardian delivers the news. "After eight years, trillions of dollars and countless deaths," it says in a headline, "the Iraq War is declared officially over."
The Daily Mirror leads with a tale that's in virtually all the papers, of a pensioner from Windsor in Berkshire who set off on a 55-mile trip to visit his daughter - andspent 30 hours going round the M25.
The 82-year-old was said to be very grateful when police eventually found him in south London, after he'd pulled off the motorway to catch up on some sleep.