Solar subsidy cut challenge allowed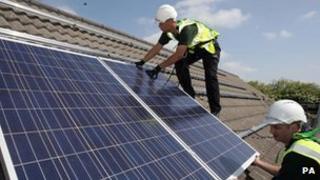 A High Court judge has ordered a hearing next week of a challenge over government plans to cut financial incentives for solar electricity.
The government said that subsidies for households which install solar panels would be halved from 12 December.
But environmental charity Friends of the Earth and two solar companies have now won the go-ahead to seek a ruling that the proposals are unlawful.
The government has said it would defend a challenge at judicial review.
Under the "feed-in tariffs" programme, people in Britain with solar panels are paid for the electricity they generate.
The new tariff of 21p per kilowatt-hour, down from the current 43p, had been expected to come into effect from 1 April, but in October the government said it would be paid to anyone who installed their solar panels after 12 December.
The tariff for surplus electricity exported to the national grid will remain at 3.1p per kilowatt-hour.
Friends of the Earth and solar companies Solarcentury and HomeSun argue this cut-off point - two weeks before Department of Energy and Climate Change (DECC) consultation on changes to the scheme ends - is unlawful.
The group says the move could cost tens of thousands of jobs and bankrupt businesses and has already led to unfinished or planned projects being abandoned.
Mr Justice Mitting, sitting in London, said the proposals had given rise to "economic risk" for those engaged in the solar industry.
He said the application for judicial review against Energy Secretary Chris Huhne should be heard next Tuesday and Wednesday as it seemed to him an immediate risk had been created "for those who are installing solar panels after 12 December".
'Enduring future'
FoE's executive director Andy Atkins said: "We're delighted the High Court has given the go-ahead to our legal challenge - we believe government plans to abruptly slash solar subsidies are not only unfair, but illegal.
"These proposals have already had a disastrous impact on the solar industry - fledgling clean businesses have had the rug pulled from under their feet and a shadow hangs over thousands of jobs.
"Ministers must change direction and put the solar industry at the forefront of building a clean, safe future."
The government's decision has already been criticised by the Local Government Association, which warned it would cost councils who had attempted to roll out the technology to poorer households hundreds of millions of pounds.
The DECC, which also faces a possible legal challenge over the plans from lawyers acting for installers, has said it is altering the scheme to ensure an "enduring future" for the industry.
It argues that under the current situation the scheme's budget would be "eaten up entirely", causing greater problems for firms and employees.
It launched the public consultation on plans to slash the subsidy in October and says it will remain open for comment until 23 December.