Police forces fail to record 'far too many' complaints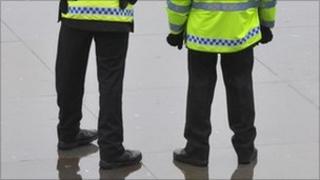 Police forces across England and Wales are failing to record "far too many" of the public's complaints, according to a watchdog body.
More than 6,000 people were forced to appeal this year after disputes were ignored, the Independent Police Complaints Commission said.
And forces were taking too long - often six months - to deal with complaints, the commission said.
Police chiefs acknowledged forces had "work to do" on the issue.
The commission said 1,200 of the appeals it dealt with were over the police failing to record complaints from the public - 60% of appeals were upheld.
It described the situation as a "great frustration" and a "waste of time and resources".
Greater Manchester and Northumbria Police came off worst, with the watchdog upholding 106 appeals against both forces.
The watchdog also ordered West Yorkshire Police to look again at 49 complaints.
Deborah Glass, from the Independent Police Complaints Commission, said: "Police forces are still failing to respond to far too many of the public's complaints despite improvements made to the complaints system seven years ago in 2004 and additional guidance issued by us to forces back in May last year.
"This is not only of great frustration to the people who should have had their complaint recognised, accepted and dealt with properly at a local level, but it's a waste of time and resources for everyone involved."
The Association of Chief Police Officers (Acpo) said the service had more work to do on the issue, particularly in the initial recording of complaints.
Deputy Chief Constable John Feavyour, from Acpo, said: "When a formal procedure is necessary, we need to look at how we can improve timeliness of the response.
"But there are also positive indications in the report that where the public express concern or criticism, forces are responding with better information, explanation and apologies.
"In many cases, this approach offers a commonsense and timely solution which avoids cost and bureaucracy."