Christmas shoppers give high streets 'busiest day'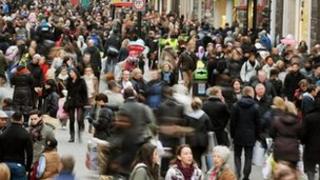 Retailers across the UK say shoppers have flocked to stores in greater numbers than 2010 on the final full weekend of shopping before Christmas.
Around 11m Britons were expected to go shopping on Saturday, according to research conducted by the Centre for Retail Research in September.
Price comparison website Kelkoo, which commissioned the study, said a total of £1.05bn was expected to be spent.
It said on average, UK households were predicted to spend £682 this Christmas.
Of that, £508 would be spent in shops and £174 online, Kelkoo said. It said overall, High Street spending would drop 2.1% over Christmas, while online spending would increase 16.4%.
Jace Tyrell from the New West End Company, which represents shops on London's Oxford Street, Bond Street and Regent Street, said trading increased by more than 10% compared with last year, when it had snowed across much of the UK.
"One department store was up 40% up on last year. It's exactly what they needed," he said.
Final run
More than 600,000 people visited the three central London shopping streets on Saturday, with the peak time between 3pm and 4pm, with around one million people anticipated over the whole weekend.
"We're looking at taking £100m at the tills over the weekend," he added.
Six members of the protest group UK Uncut were arrested during a demonstration against tax avoidance at Topshop's flagship store in Oxford Street.
Manchester's Trafford Centre said it had seen one million shoppers over the past nine days.
Trafford Centre director of operations Gordon McKinnon said: "There is no doubt that many people have left it later this year, holding off spending until as late as possible, but we are now into the final run-in and people realise there are only a few days left."
More than 250,000 shoppers were expected at Bluewater shopping centre in Greenhithe, Kent, over the weekend.
A spokesman said the centre's 13,000 parking spaces were at 80% capacity at mid-day on Saturday, adding that a large number of men were making last-minute purchases with their children.
Footfall up
In Glasgow, greater numbers of shoppers than 2010 braved the cooler temperatures to visit the Braehead Shopping Centre.
Peter Beagley, the general manager, said: "Our footfall is up on last year and I put this down to the improved retail and leisure offering we have for shoppers."
On Thursday, the Office of National Statistics said retail sales had fallen by 0.4% in November from the month before.
The British Retail Consortium described the figures as "miserable".
The sales figures came just days after a government-commissioned report by retail guru Mary Portas warned that the UK's High Streets were under threat from online competition, and described some town centres as "dead".
She said action needed to be taken to tackle the crisis.