Whippet delays Manchester airport flights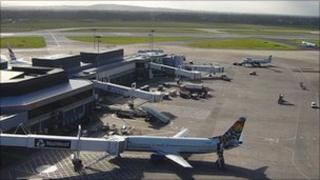 An escaped whippet forced a runway at Manchester airport to close on Saturday, managers have confirmed.
A flight from Turkey was diverted to Birmingham and a dozen other flights were delayed as airport staff spent 40 minutes chasing the animal.
The racing pedigree dog stole away during a walk and slipped past a manned access point into a cargo area.
An alarm was raised to stop take-offs and landings after the animal was spotted at 10:40 GMT.
Gary Brown, the airport's duty manager, told the Manchester Evening News: "It took some time to catch it. The airfield is obviously quite a big area.
"Because of the delay there was a build up of flights and we had to suspend a Turkish Airways flight from Istanbul. It was diverted to Birmingham, refuelled and has now made its way up here.
"Basically, if there is any lost animal on the runway, we have to stop all flights straight away. Fortunately, we've cleared the backlog."
There were delays at the airport on Friday after 3mm of snow fell at the UK's fourth busiest airport.