Law Commission seeks faster insurance payouts for firms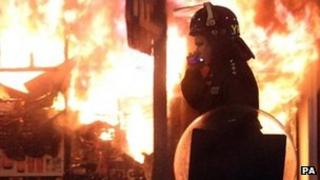 Insurers should be legally obliged to pay valid claims quickly and to compensate claimants for losses from delays, the Law Commission has said.
It said current insurance contract law in England and Wales was "unfair".
Businesses can wait for up to six months for an insurance payout, with no compensation for that waiting time.
The commission has begun a consultation with its Scottish counterpart into how the law could be changed to aid smaller businesses hit by unexpected events.
They propose that insurance contract law in England and Wales be brought into line with the law in Scotland and follow the principles of normal contract law.
Under normal contract law, if one party breaks a contract, the other may claim damages for any foreseeable loss they suffered as a result.
But under current legislation in England and Wales, policyholders can sue their insurance company in such situations but they cannot claim for an losses suffered due to a delayed payout.
Law Commissioner David Hertzell said: "In this respect, insurance contract law is unfair, unprincipled and out of step with today's commercial realities.
"Small businesses, such as those struggling to get back on their feet after the recent riots or after floods, are particularly vulnerable to late payment of insurance claims," he said.
"We are seeking a solution that balances the insurers' need to investigate claims against policyholders' expectations that valid claims will be paid on time."