London 2012 in quotes: Looking forward to the Olympics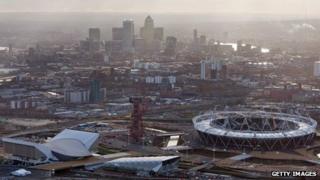 As 2012 dawns, key figures involved in the Olympic and Paralympic Games and the cultural events surrounding them, tell us what they are looking forward to.
Sebastian Coe, Chair of London 2012
"With just over 200 days to go, our Olympic and Paralympic year has begun and we are getting ready to stage a fantastic Games. This is the largest project delivered in the UK in peace-time, and we are going to show the world what we, as a nation, and as London, can deliver.
"Over the next six months, we will be working flat out to deliver a Games the whole of the UK can be proud of. Whether as an athlete, spectator, visitor, Torchbearer or Games Maker, we want everyone to feel they can play their part in making the London 2012 Games a success.
"It's fantastic to see how many people in the UK and around the world are inspired by, benefiting from and delivering London 2012 and we look forward to having many more join the journey over the next few months.
"The London 2012 Games are a real once-in-a-generation opportunity. I'd encourage everyone to join the team and make the most of these Games. I would also like to take this chance to thank all those who are already taking part."
Boris Johnson, Mayor of London
"It's incredible to think that in just a few months, all of London will be focused on delivering the most exciting sporting and cultural event ever to come to the capital.
"Even before the Games roll into town, we will be getting the celebrations into full swing with the Queen's Diamond Jubilee, and showing the world why London is a fantastic place to throw a party.
"We are already laying the groundwork for a lasting legacy following the Games and I can't wait to see each and every Londoner fully embracing the unique opportunities next summer represents for the capital."
Hugh Robertson, Minister for Sport and the Olympics
"My great hope for 2012 is that London will lay on a great Games and that this country will make the most of the extraordinary opportunities presented by being the host nation.
"Most of all I want to see British athletes do well in the medal tables. We have an aspirational target of fourth with more medals in more sports, so I want to see our athletes succeed and inspire a new generation of people to take up sport."
Sir Chris Hoy, Gold medal-winning track cyclist
"My main hope for 2012 is that I'll experience what it's like to win an Olympic gold in front of a home crowd and enjoy every aspect of competing in my last Olympic Games."
Tom Daley, Diver
"In 2012 I hope to go into the Olympic Games on top form and go and do the best six dives of my life.
"We have the World Series circuit that travels around the world, the Olympic Test event and the European Championships. It is going to be a big year for me and all of the Olympic hopefuls but I am sure it will be one that we never forget!"
Sarah Stevenson, Taekwondo world champion
"The thing I am looking forward to most in 2012 is just getting in there and fighting in the Excel centre with all the home crowd behind me.
"If I was going to watch any other sport it would be the wheelchair basketball at the Paralympics. I absolutely love it, it's so exciting and dynamic, I just can't take my eyes off it."
Rebecca Adlington, Olympic gold medal-winning swimmer
"In 2012 I look forward to Britain putting on a great Olympics and, if I qualify, enjoying the support of a home crowd at the Aquatic Centre."
Keri-Anne Payne, Olympic medal-winning open water swimmer
"My main focus is obviously the Olympics.
"I plan to enjoy the experience of a home Games, and hope that everyone else does as well, not just athletes, but the public as well."
Jessica Ennis, heptathlete
"When I'm doing a really hard session, I think of the Olympics and it gets me through it.
"I think back to being injured before the last Olympics, not even being able to do the most basic running session, and try to think how privileged I am to be able to train hard, injury free. You try to do things as you ordinarily would, but the Games do creep into your head."
Helen Jenkins, World triathlon champion
"In 2012 I am most looking forward to 4 August, the day of the female Olympic triathlon event.
"I am looking forward to doing it - to getting the preparation in and being out there and racing."
Alistair Brownlee, World triathlon champion
"The thing I am most looking forward to in 2012 is just the whole Olympic experience.
"It's a fantastic festival of sport and, for someone who's mad keen on sport, the racing, and watching the other events that come after, is going to be amazing.
David Weir, gold medal-winning Paralympic wheelchair athlete
"During the next few days I am looking forward to going to Australia and getting into some warm-weather training. It's about getting prepared for London and going to see the competition, what they are up to. You're wanting to do some good times and to put a marker down and say 'I'm in good shape'. To frighten them a little bit.
"To leave my children will be difficult but it's all for a good cause. I usually go to Australia at this time of year because it's the worst time of the year here. It breaks up the training in the freezing cold. It's still work, but it gives you that lift. I haven't got to put 20 layers on and you can train a little bit harder. You get a bit of a tan and you feel good, your muscles are warm.
"I will be competing in the wheelchair 800, 1,500, 5,000 and marathon at the Paralympics, as well as the London Marathon in April.
"I am looking forward to the training camp in July that I am going to in Portugal. To train hard for the Paralympics. To get away from the limelight for a little bit and train hard there. You have got other races to think about before the Paralympics - that's good because that takes your mind off it.
"Just to stand on that rostrum with family and friends around, and to get a gold medal would be a dream come true. One gold would be enough. That would be the ultimate for my career.
"A home Paralympics means it's a bit more pressure as well, but it drives you on every day, that it's in your home country and it's going to be a great Paralympics."
Sports Personality of the Year attendees
Students involved in the BBC News School Report project asked some of the nominees and sports stars at this year's Sports Personality of the Year awards about their hopes for the year ahead.
After a big year for home nations golf, US Open champion Rory McIlroy said he wanted to win more tournaments in 2012 - particularly the US Masters. A Masters victory was also the target of world number one Luke Donald.
British Open champion Darren Clarke said he wanted to play better in 2012 than he had in 2011, although the SPOTY runner up accepted that might be a tough challenge.
Three time World Champion gymnast Beth Tweddle said simply that she would like an Olympic medal in 2012.
World marathon record holder Paula Radcliffe and former WBO, WBC, WBA, IBF & British super middleweight champion boxer Joe Calzaghe had similar goals - staying healthy and making 2012 a year that counts.
Meanwhile, spinner Graham Swann and speedman James Anderson said they wanted to help make England the best cricket team in the world in 2012.
Former rugby world cup winner Matt Dawson said he was looking forward to becoming a father in March 2012, saying his new year's resolution was to be a good dad.
Double Olympian gold winning rower James Cracknell had a similarly domestic focus, saying his new year's resolution was to be tidy in the house.
Edward Barber and Jay Osgerby, 2012 torch designers
"2011 has been a big year for us - mainly due to the Olympic Torch.
"It has been an amazing experience for us so far and next year we are going to catch up with the Olympic flame during the torch relay. We will also be there when the first torch is lit at the site of the ancient Games in Olympia."
Bharat Thakrar, 2012 torch relay torchbearer
"I graduate this year from Portsmouth University where I'm studying for a Finance and Business degree, so it will be a special year for me. Then it's the Olympics, it's going to be a great year and one to remember.
"When I run with the torch on Friday 6 July it will be a really exciting moment, to see friends and family, people lining the streets to watch me carry the torch. That's the image I've got of it. The whole build-up to that week will be really strange, I will be counting down.
"I was fortunate to get some tickets in the ballot, to the athletics, table tennis and the closing ceremony. And for the Paralympics. I've seen the Olympics in other countries on the TV, but being there, the atmosphere will be incredible."
Rita Patel, Games Maker on the accreditation team
"My hope and aspiration for 2012 is to do the best that I can to 'make the Games'. They are the biggest thing for my family and friends and I just want to do my best to showcase them and London.
"The Olympic Games are the pinnacle of sport and, because so many other countries take part, to be able to put on the greatest show on earth and be part of that will be a once in a lifetime opportunity. I don't think I'm going to be able to do anything as huge as this again. The inspiration that my children, family and friends are getting is infectious.
"We were really lucky to get some tickets for the Paralympics, for my parents and children. For a brief moment, when we moved from Cardiff, we lived in Newham, I went to college there. We saw what it was like before redevelopment.
"To be able to take my parents to the Olympic Stadium to watch the athletics at the Paralympics is awesome. That is going to be the highlight for me. It's just an amazing opportunity for that part of London."
Ruth Mackenzie, Director, Cultural Olympiad
"If we do our job the summer of 2012 will be the best summer for everybody in the UK and will create amazing memories of unforgettable sport and cultural achievements. We'll have told the world what a brilliant place the UK is for cultural tourism and how our creative industries are gold medal winners.
"Our first countdown event to the London 2012 festival opens on 21 January - David Hockney's amazing exhibition at the Royal Academy of Arts in London.
"We have a series of countdown events building up to our festival. On 23 April, Shakespeare's birthday, the BBC and Royal Shakespeare Company and the Globe all go crazy showing us how amazing Shakespeare is.
"But 21 June is our biggest day where we open the festival and launch our 10 million free tickets and opportunities to see world-class arts and culture."
Seth Lakeman, Musician
"I'm really looking forward to performing with the BBC Concert Orchestra as part of Music Nation in March. It'll be the first time I've played alongside a full orchestra, so it will be a great experience and it's brilliant to be part of the Music Nation project celebrating music across the UK.
"I'm looking forward to tours in the UK and Europe as well as many other festivals, and I'm going to Australia with my band for the first time in April.
"I'm also getting married in the spring, so 2012 will definitely be a memorable year for me!"
Trevor Nelson, DJ and Radio 1 Hackney Weekend ambassador
"First let me express how proud I feel to be an ambassador as I was born within a mile of the Olympic site. I can't wait for all the exciting events leading up to the Games, particularly the huge two-day concert that Radio 1/1Xtra are putting on at the Hackney Marshes.
"The lighting of the Olympic flame is the moment for me, the whole world will be watching us and it will signal the start of me acting like a big kid again and immersing myself in sport for the rest of the summer. Bring it on."
And finally.... from 2012's fictional counterparts, Twenty Twelve....
Ian Fletcher - Head of Deliverance, Olympic Deliverance Commission
"With opportunity firmly clutched in its torchbearing fist, 2012 is going to be all about 'legacy' and 'sustainability' working together towards 'legastainability'.
"First, there is the very exciting and suddenly very real prospect of opening up post-Games venue-use to another round of bidding.
"With the West Ham versus Tottenham contest a happy memory, we're thrilled to be unpacking the issue once again in order to weigh up viable solutions for the giant stadium.
"I can't say much at this stage of retenderisationing but what I can reveal is that both LyingInState.com, a public events company based in North Korea, and NASA have expressed interest. So that's all good." (Played by Hugh Bonneville)
Nick Jowett, Head of Contracts ODC
"For some people, 2012 is all about running and jumping and throwing things a long way for no apparent reason. Which is all very well if you live somewhere fast or can't afford the bus fare, but I'm sorry, I'm from Yorkshire.
"So like most of the population I'm much more excited about automatic enrolment into an employee sponsored pension scheme. Efficient processing and seamless administration, that's what I'm looking forward to in 2012." (Played by Vince Franklin)