Man bailed after 'terror document' arrest at airport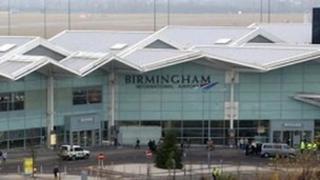 A 22-year-old man who was arrested at Birmingham International Airport on Monday night under the Terrorism Act has been released on bail, police said.
He was arrested on suspicion of being in possession of a document likely to be of use in committing or preparing an act of terrorism.
The man, who is a Pakistani national, is on a student visa and is studying in the UK, police said.
He was detained after arriving on a flight from Dubai.
A West Midlands Police spokesman added: "The arrest was not as a result of any ongoing investigation and there was no immediate threat to the public."