Operation Elveden: Arrest in police payments probe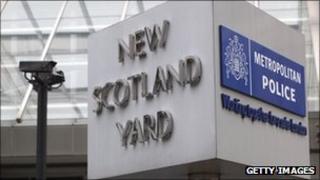 A 52-year-old serving police officer has been arrested as part of an inquiry into alleged illegal payments from journalists, Scotland Yard has said.
The woman was arrested at a property in Essex on Wednesday morning. She was later bailed until April next year.
She was the eighth person - and first police officer - to be arrested as part of Operation Elveden.
Operation Elveden is running alongside the Metropolitan Police's phone-hacking investigation, Operation Weeting.
The Met said the woman was arrested at a residential address about 06:00 GMT and held at a police station in Essex.
Previous arrests
Scotland Yard said in a statement: "Officers from Operation Elveden arrested a serving Metropolitan Police Service officer on suspicion of misconduct in a public office and offences contrary to the Prevention of Corruption Act 1906."
Last week, former News of the World crime editor Lucy Panton, 37, was arrested in Surrey by officers from Operation Elveden.
She was held at a south London police station before being bailed until late April.
Operation Elveden was launched after police were handed documents suggesting journalists working for News International had made illegal payments to officers.
Sixteen people have been arrested under Operation Weeting and one person arrested under Operation Tuleta, the police's investigation into allegations of computer hacking which is not covered by Weeting.