'Black panther' Donald Neilson died from pneumonia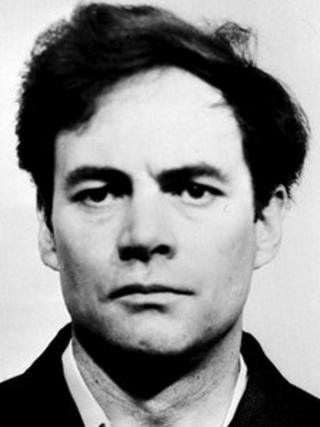 Multiple murderer Donald Neilson, known as the Black Panther, died from pneumonia, an inquest has heard.
The 75-year-old, who suffered from motor neurone disease, died on Sunday after being taken from Norwich Prison to hospital with breathing problems.
The inquest heard Neilson was vulnerable to pneumonia, partly as a result of his long-term condition.
Neilson, from Bradford, was convicted of four murders, including that of 17-year-old heiress Lesley Whittle.
The inquest into Neilson's death was opened in Norwich by Norfolk coroner William Armstrong.
He said Neilson was transferred from Norwich prison to the Norfolk and Norwich University Hospital on Saturday.
Staff at the prison said Neilson had been feeling unwell for two days and had reported shortness of breath, coughing and feeling cold.
He was pronounced dead at 18:45 GMT on Sunday. A full inquest will be held in due course.
Criminal career
The jobbing builder kidnapped Miss Whittle from her home in Shropshire in 1975, leaving a ransom demand for £50,000.
The teenager's body was later found hanging in an underground drainage system, where Neilson had secured her by the neck with wire.
He also shot dead three sub-postmasters during armed robberies between February and November 1974. Those victims were Donald Skepper, killed in Harrogate, North Yorkshire; Derek Astin, in Higher Baxenden, Lancashire; and Sidney Grayland, in Langley, West Midlands.
Also responsible for about 400 burglaries during a 10-year criminal career, the killer was dubbed "The Black Panther" as a result of witness descriptions of his dark clothing and powerful physique.
Three years ago Neilson lost an appeal to have his life sentence, imposed in 1976, reduced to 30 years.