Control order on terror suspect CE upheld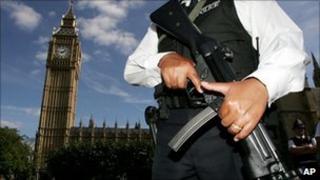 A judge has upheld a control order on a terror suspect after it emerged security chiefs fear he returned to the UK after receiving explosives training.
Home Secretary Theresa May had refused to confirm or deny he was interrogated abroad by UK security services.
A QC for the 27-year-old naturalised British citizen from Iran, referred to as CE, had called this "absurd".
But Mr Justice Lloyd Jones backed Mrs May's policy, stating a belief that CE attended a terror camp in Somalia.
The order, put in place in March, imposes restrictions on CE's movements, including preventing him attending prayers at a named community centre and a ban on connecting to the internet from home.
Richard Hermer QC had argued for the disclosure of documents relating to the suspect's alleged interrogation by UK security services when he was in Kenya in 2007.
At the time the QC told Mr Justice Lloyd Jones the refusal to confirm or deny interrogation abroad was a barrier to his client gaining information to defend himself against terror accusations.
But Mr Justice Lloyd Jones, sitting in Cardiff, upheld the control order.