UK requests return of US detainee Yunus Rahmatullah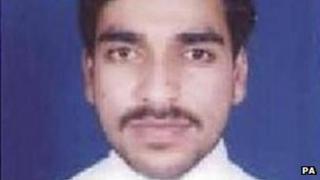 The British government has asked the US to return a detainee to its custody, a week after a unique court order.
Suspected insurgent Yunus Rahmatullah was captured by British forces in Iraq in February 2004. He was transferred to US custody in Afghanistan, where he is being held without charge.
The Court of Appeal ordered his return under an ancient right that requires authorities to produce prisoners.
The Foreign Office is to appeal against the legal principles of the judgement.
However, it cannot appeal against the ruling.
The judgement against the government came under the law of Habeas Corpus, one of the most important and ancient cornerstones of English law.
The rule forces the authorities to bring a prisoner to court - or to explain why they cannot do so. It was originally developed to stop monarchs making their enemies disappear without trace.
The Court of Appeal decision in the case of Mr Rahmatullah extended the application of the law to British operations overseas.
No US response
Lawyers for the detainee had successfully argued that the UK was still the legal authority responsible for Mr Rahmatullah's welfare, even though he had been handed over to US detention under a special agreement.
The government has now confirmed to the court that it wrote to the US Department for Defense within 48 hours of the judgement, requesting the return of Mr Rahmatullah in accordance with the court order.
US officials did not give a response to the request by the deadline because the senior official in charge of overseas detainees was travelling.
The government has accepted it cannot appeal the order to seek Mr Rahmatullah's return to UK control - but will still challenge the general principles involved in the case at the Supreme Court.
A government spokesman said: "[We have] obtained leave to appeal the judgment to the Supreme Court. In the meantime, in compliance with the court's writ, Her Majesty's government continues to be in correspondence with the US government.
"It would be inappropriate to comment further on ongoing legal proceedings."
Cori Crider of Reprieve, the legal charity behind the case, said: "The only question left is: does the US keep the bargains it makes with its closest ally?
"The Obama administration has said it wishes to restore US standing abroad and to bring the US back into line with the Geneva Conventions - well, there is no time like the present."