Leveson Inquiry: Cost of first three months revealed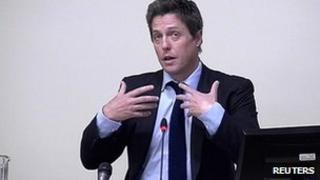 The first three months of the inquiry into press standards has cost £855,300, figures show.
A breakdown of expenditure for the period of mid-July to 31 October was posted on the Leveson Inquiry website.
The biggest sum was spent on paying secretariat staff, who received a total of £376,100, while counsel to the inquiry were paid a total of £215,400.
The cost of the inquiry, which is examining the practices and ethics of the press, will be published quarterly.
Costs breakdown
Expenditure details showed accommodation costs, including the price of the hearing room and annex plus office accommodation, came to £85,000, while the costs of the hearing itself totalled £23,600.
The seminars that ran prior to the inquiry and were addressed by newspaper editors, academics and others cost £93,000.
Some £4,000 was spent on office running costs, while IT and telecommunications came to £35,400, and assessors' remuneration added up to £22,800.
The panel of assessors receive a daily allowance for providing expertise on their line of work to the hearings. However, some of the assessors, who include Liberty director Shami Chakrabarti and former Channel Four News political editor Elinor Goodman, do not claim their daily allowance.