Census 2011: Bid to prosecute 400 for failing to return forms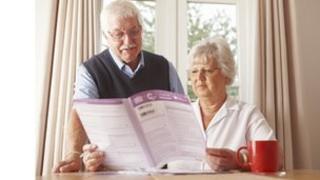 Attempts are being made to prosecute about 400 people in England and Wales for failing to return their 2011 census forms, the BBC has learned.
The questionnaires were sent out to all households in the UK in March and are used to help governments and local authorities plan public services.
It is a legal requirement to complete the census every 10 years.
In Scotland one person has already been fined and four other cases are ongoing. There are no cases in Northern Ireland.
Final figures and calculations from the 2011 census on 27 March will not be announced until next summer.
But the Office for National Statistics in England and Wales (ONS) believes it has achieved a response rate of more than its target of 94%.
The remaining 6% does include empty properties but the ONS believes tens of thousands of households failed to respond.
Following a freedom of information request by the World at One on BBC Radio 4, the ONS said 22.9 million forms were returned out of the 25.4 million sent out.
'Quite complex'
It says attempts are being made to prosecute 400 people.
By comparison, there were only 43 successful prosecutions in the whole of the UK at the last census 10 years ago.
The ONS sends files on potential cases to the Crown Prosecution Service.
Census director for England and Wales, Glen Watson, said where homes were vacant because they were used as second homes, it was "quite complex" working out where forms should come back from.
He said only those who had answered their door to enforcement officers could be prosecuted.
"We have to collate the evidence and pass across to the CPS the ones where we think there's a good case and good evidence," he told the BBC.
"Then, ultimately it's for the CPS to decide whether or not a prosecution would be in the public interest."
"If we haven't contacted people, we've got no basis on which to take any kind of legal action."
Information given on the 2011 census will not be publicly released for 100 years.
But Brian Collier, from Coventry, refused to complete his census because he considered it "intrusive".
He was prosecuted and ordered to pay £150 - which included a fine, costs and victim surcharge. The maximum fine for not completing the census is £1,000.
"It was supposed to have been about what the government were going to do with money - you know the funding and things like that, that's what I believed," he said.
"But when I read through the census, it just seemed like 'who's in your household', 'do you know anyone who's abroad'.
"It was just, I felt, very intrusive and very personal and I feel I shouldn't have to answer questions like that."
He said he accepted there were consequences to his actions, and he was not going to whinge or cry about it.
But he added: "I'd like to know why I was singled out - if I was - that'd be nice to know. But that's never going to happen."
The Scottish government said around 2.3 million of the 2.5 million questionnaires they distributed have been returned.
It said after allowing for vacant properties and other properties unoccupied by households, the estimated response rate was 96%.
But it stressed the information was still being processed.
In Northern Ireland, the Department of Finance and Personnel said approaching 700,000 forms were returned.
It has not sent any files to the Public Prosecution Service in cases of unreturned questionnaires.
A statement said: "There is a lot of work to be completed before a final response rate can be given.
"However, early indications are that the 2011 person response rate will be broadly in line with the 95% achieved in 2001."