UK supports Afghan forces' bid to secure key routes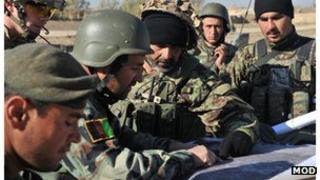 Almost 1,000 Afghan and British troops have carried out a counter-insurgency operation to secure three key transit routes in a part of Helmand province.
The Afghan army led Operation Zamestani Peerozi (Winter Success), which saw new checkpoints built to maintain security.
Caches of 27 improvised explosive devices (IEDs) and other bomb-making materials were found and seized.
Meanwhile, the UK says it is to invest in more lightweight armoured vehicles and new roadside bomb counter-measures.
The latest operation in Afghanistan would "reduce the ability of insurgents to mount attacks", said Brig Patrick Sanders.
Some 550 Afghan National Army and Afghan Uniformed Police personnel carried out the operation, supported by more than 280 British troops as well as Estonian forces.
"This was a major operation planned and led by Afghan forces to take on the insurgency, with Task Force Helmand very much in a supporting role to mentor and advise our Afghan partners," said Brig Sanders.
The focus of the operation was an area where the boundaries of Nad Ali, Nahr-e Saraj and Lashkar Gah districts meet in the southern Afghanistan province.
Lt Col Bill Wright, commanding officer of 2nd Battalion the Rifles whose soldiers took part, said the operation had gone "very well".
"The new checkpoints will mean the security forces can dominate the area and stop insurgents coming here to influence the local communities," he said.
'Urgent challenge'
Afghan army commander Brig Gen Sheren Shah said: "My message to those who are fighting against our government is to come and join the peace process, as this can be the only solution."
The order for new kit for troops in Afghanistan includes 100 more Foxhound protected patrol vehicles and £200m on new technology to counter roadside bombs.
The Foxhounds, which will be built in the UK, have an armoured hull and are replacements for the Snatch Land Rover, which drew criticism for failing to offer enough protection from roadside bombs.
Rose Gentle's son Gordon, 19, was killed by a roadside bomb while in a snatch land rover in Basra in June 2004.
She welcomed the announcement but said she wished the MoD had taken action earlier.
"I welcome anything that helps the lads, it's a good thing but something should have been brought out a long time ago," she said.
"Maybe if it had been it would have prevented a lot of lives being lost."
Defence Secretary Philip Hammond said protecting UK forces in Afghanistan from bombs was the governments "most urgent challenge".
He said: "The campaign is evolving, and in the previous phase of the campaign the heavy armoured vehicles, which give very good protection, have been the right equipment for the task.
"The task is now changing and our troops will increasingly be working with the Afghans, much of this work is done on foot and we need well armoured and highly manoeuvrable vehicles.
"The Foxhound is well designed for this. It's got the level of protection that we need but it's small and can get into the narrow streets that typically we find in Afghan villages."
An earlier order of 200 Foxhounds, part of a £180m contract announced last year, is due to be delivered for training next month.
The plan for a further 100 of the vehicles is subject to final contractual talks with manufacturer Force Protection Europe.