Newspaper review: Press hail card surcharge restriction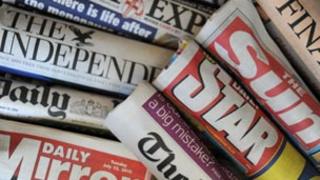 The government's plans to ban companies from imposing excessive surcharges on payments by credit or debit card is the main story for several newspapers.
The Independent says the fees have spread like a fungus across British retail- and that the coalition has struck a blow for shoppers.
The Daily Mirror describes the charges as modern-day highway robbery..
The Daily Express says they are the retail sector's version of stealth taxes..
Iraq bombings
There is widespread concern about the latest outbreak of violence in Iraq, just days after the withdrawal of American forces.
The Independent says it is clear there are strong forces in the country who have been waiting for this moment to make their move to achieve supremacy.
For the Guardian, the bomb attacks have ended any hope of the country moving forward under a nationalist banner.
The paper says it is hard to overstate just how fraught Iraq's future looks.
The Financial Times reports that retailers have enjoyed a last-minute surge in demand from Christmas shoppers..
Nature mourning?
As North Korea continues to mourn the death of its former leader, Kim Jong-il, it seems the natural world has been showing its grief, too.
According to the Mirror, North Koreans were told that a Manchurian crane circled a statue of Kim's father and landed on a tree with its head bowed.
And they were also told the sky glowed red just before their leader's death.
Shoppers have been finding that the cost of Christmas lunch has increased sharply since last year.
According to the Independent, official figures show that a basket of goods for a typical festive meal bought this year has risen by £7.50 - to £107.32.
But the Express says potatoes cost 10% less and carrots were down by a fifth..
The Daily Telegraph reports that many people are getting round the increases by buying cheaper versions of their favourite treats.