Homeless charity Crisis offers 'Christmas sanctuary'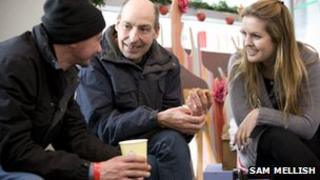 The charity Crisis opened the doors of its centres to rough sleepers over Christmas on Saturday; It's the 40th year that it has done so.
The centres offer food, a bed, advice and health services for eight days.
It comes as, for the first time in a decade, the number of homeless people is on the rise.
Last year, almost 4,000 people slept rough on the streets of London.
For Charles Lasalle, 29, this is the first Christmas he has had no home.
He is one of the first rough sleepers through the doors at the biggest centre Crisis runs in London Docklands.
It has been set up in an empty, steel and glass office building with view over city airport and Canary Wharf.
'Same story'
"I became homeless because I lost my job, I used up my savings and was forced to move out on to the streets," he explains.
He says that during his time sleeping rough he has met many who never thought they would be homeless.
"Doctors, dentists, vets - everyone has got the same story," he says.
Now he expects to get hot food and a bed for eight days.
He can also see a doctor, a dentist, get his eyes checked and get advice on how to find a hostel place and a job.
Its an incredible logistical exercise run by 3,000 volunteers, who will serve more than 25,000 meals before the centres close. There are eight across London and one in Newcastle.
At the Docklands centre, a mobile TB screening unit has just arrived and vans carrying supplies are constantly shuttling in and out of the warehouse at the back.
There are also a kennels area for people who sleep rough to leave their pets in. Each one has a new blanket and a bed.
Inside the building there is a growing hubbub as more and more people arrive.
Signs are in both English and Polish, recognising the fact that almost one in four rough sleepers are now from eastern Europe.
Some start with a cup of tea and a biscuit, others head for the games room.
I see two who are having their fillings attended to in a mobile dental surgery.
On the first floor there is already a steady stream of people heading to the advice centre.
One of the advisers is Phil Higgins, a builder by trade. He first came to Crisis when he was homeless himself.
Eleven years ago he came back as a volunteer and is now an advice service manager.
"It is one of the best things I do every year," he says.
"I am very honoured and privileged to be a part of a system that creates open doors for people which can change their lives."
The service connects the homeless with lawyers, the Citizens' Advice Bureau and housing specialists.
"When we don't see people coming back here it's a big success for us," he explains.
But the statistics show that there is more need now than there has been for a decade.
For the first time rates of homelessness have begun to rise - by 8% in one year. Last year in London alone 3,975 slept rough.
'No celebration'
New research also shows the devastating health effects of homelessness.
The University of Sheffield found that rough sleepers die on average at the age of 47 - 30 years younger than the general population.
Leslie Morphy is the chief executive of Crisis. Although the organisation is 40 years old this year she doesn't feel there is much to celebrate.
"I really don't believe the people who set up Crisis at Christmas thought we would still be doing it in 40 years time," she says.
"Our success will be when we don't have to do it at all. Unfortunately I don't think we're anywhere near that at the moment."
Crisis hopes it won't just give rough sleepers a brief sanctuary this Christmas but offer some a gateway to a life off the streets altogether.