Newspaper review: Prince Philip's health on front pages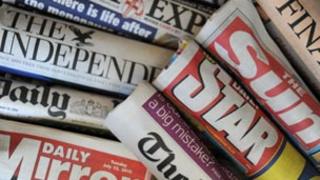 Concern for the Duke of Edinburgh's health makes several front pages, with news that he was suffering chest pains arriving ahead of deadlines.
Prince Philip had suffered a "serious heart scare", according to the Daily Mail, printed before the procedure to fit a coronary stent was announced.
The Daily Express runs a picture of the Duke, smiling with the Queen in Canada.
Ex-Royal press secretary Dickie Arbiter tells the paper the Duke's health is "actually pretty good" given he is 90.
'Casts a shadow'
While news of the Duke's illness missed some early-edition deadlines, papers followed the story on their websites.
The usual Royal Christmas celebrations - including the Christmas Day church visit and Boxing Day shoot - have been "thrown into chaos", notes the Daily Mirror.
It "casts a shadow" over their stay at Norfolk's Sandringham estate, the Royal family's biggest gathering in decades, says the Sun.
It recalls the Duke talking of "slowing down" during an interview in June.
Car bombs
The Syrian government's insistence that al-Qaeda was behind Friday's bombings attracts considerable scepticism.
The Times says they were "extraordinarily opportune" for the regime.
The Independent says the car bombs sparked fears the Syrian uprising could reach a "nadir of chaos and violence".
If the bombings were the work of Syria's security services, "we can expect more of them", warns the Guardian.
Shopping stats
If you are hungry for statistics about Christmas shopping, the papers offer a veritable feast.
According to the Independent, an estimated £1.5bn was spent in the shops yesterday, making it the busiest shopping day in the UK ever.
The Daily Express says the busiest minute was at 12:44 GMT when £42m was spent in just 60 seconds.
The Sun reckons £410m will be spent online on Christmas Day.