Christmas shopping saw millions take to streets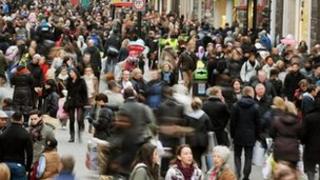 Millions of people hit shops across the UK to secure last-minute purchases ahead of Christmas Day.
Many retailers extended opening hours and provided heavy discounts.
Shopping centres across Scotland were busy - especially in Glasgow and Aberdeen - while Belfast's Castle Court also reported brisk trade.
London's Oxford Street was also hectic - with many men leaving gift buying until the 11th hour, a shopping centre spokesman said.
Online shopping association IMRG expected consumers to spend £186.4m online on Christmas Day.
It forecasts that £367.8m will be spent on Boxing Day.
Its estimates were said to represent a 12% increase on the sum spent last year.
"The amount of money consumers spend online every Christmas Day is continuing to show double-digit growth," said a spokesman.
Heavy footfall
Braehead in Glasgow and Union Square in Aberdeen were both reported to be extremely busy, while Belfast's Castle Court reported footfall up by 15% compared to last year.
Hectic scenes were reported across London's West End where three-quarters of those hitting the shops were men, according to a spokesman for the New West End Company, which represents 600 retailers across Oxford Street, Regent Street and Bond Street.
He said: "There has been a last-minute surge, although we always knew today would be busy.
"The lingerie and perfume counters are heaving. One of the Dior counters said they had their first sale just 13 seconds after opening this morning.
"There are also a lot of people at the Marks and Spencer and John Lewis food counters, where people seem to be panic buying."
Stores offered discounts of up to 60%.
More than 600 buses arrived at the Trafford Centre, in Manchester, to deliver shoppers from all over the north of England.
The total footfall at Bluewater shopping centre was expected to be about 750,000 between 20 and 23 December.
A spokeswoman for the centre said had been a heavy male presence at the site, with the gift wrapping service being particularly popular.