Newspaper review: Focus on royals as prince recovers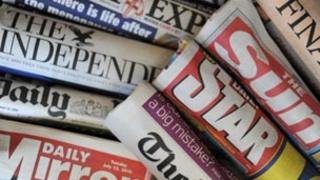 The emotions of the Royal Family are the focus of several papers, as the Duke of Edinburgh recovers from heart surgery away from Sandringham.
The Daily Express highlights the Queen's quiet courage, reporting that she had insisted "the show" go on.
The Mirror says she put on a "brave face" to smile at the crowd, gathered outside church.
The Daily Mail quotes an insider at Papworth Hospital, who says Prince Philip is "itching to get out".
'Jolt'
"They've beaten us at football and outdo us at partying: now Brazil has overtaken us in the world economic rankings," says the Times.
It reports figures from the Centre of Economic and Business Research which show the UK has been deposed by Brazil as the world's sixth largest economy.
The Mail says the news comes as "something of a jolt".
But the Guardian says the UK can console itself that France is projected to fall at an even faster pace.
Snakes and ladders
A bleak picture of the UK's economy is also painted by the Independent.
It believes next year will bring rising unemployment, more business failure and a double-dip recession, but falling inflation will leave people with more disposable income.
The Times looks back on this year's pitfalls for economic leaders.
It prints a game of snakes and ladders to illustrate the dangers, the longest snake being reserved for former Greek prime minister George Papandreou.
Garden party
Most papers highlight the unseasonably warm weather, during what the Telegraph describes as a "Barbecue Christmas".
The Independent says Britain on Christmas Day was warmer than Athens and Barcelona.
A front-page photograph of swimmers plunging into the Serpentine is accompanied by the caption: "Come on in - the water really is lovely."
The Mail describes how a woman from Lincolnshire even hosted a garden party for her guests.