Royal Navy sailors may be recruited by Australian navy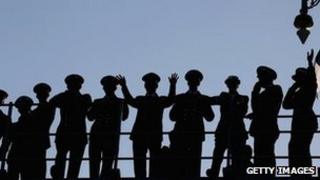 Sailors being made redundant by the Royal Navy could be recruited by the Royal Australian Navy.
The RAN is planning to take on some of the 5,000 personnel set to lose their jobs as part of defence cuts.
It has sent a delegation to the UK to further investigate the idea of recruiting British sailors.
The Ministry of Defence (MoD) has said it "makes sense" for sailors to use their skills in a similar role when they leave the Royal Navy.
An Australian military spokesman told the Daily Telegraph: "We have been closely consulting with the Royal Navy on options for [its] personnel affected by the downsizing.
"The RAN is presenting itself to personnel identified for redundancy as one of their career transition options, provided those personnel meet its requirements.
"The plan is that the British Navy would be contacting people being made redundant and telling them that there is an option for them to extend their career and giving them our contact details.
"The Royal Navy is very comfortable with this approach."
The MoD plans to make thousands of job cuts by 2015, as a result of budget constraints. Along with the navy cuts it will lose 12,000 Army posts, 5,000 Royal Air Force posts and 25,000 civilian staff.
The cuts are designed to help save £5bn.
An MoD spokeswoman said: "Sailors in the Royal Navy are among the best and most highly trained in the world.
"It makes sense for those leaving the Royal Navy to use the skills they have gained during their career in their future employment, whether that is for another country's naval service or any other sector."