Newspaper review: New Year Honours list controversy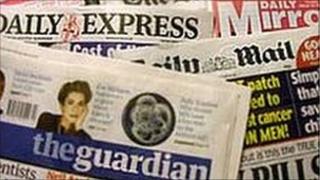 The New Year Honours list provokes debate in many of the papers.
Actress Helena Bonham Carter is pictured on the front of the Times and other papers after becoming a CBE.
There are also plaudits for entertainer Ronnie Corbett and TV presenter Lorraine Kelly, whom the Sun calls a national treasure by Royal appointment.
But the i is amongst the papers concerned by the honours awarded to convicted fraudster Gerald Ronson and former gang member Chris Preddie.
Tory donors
The Daily Telegraph says PM David Cameron has been accused of rewarding his party's "friends in the City".
It says a knighthood for services to the arts was given to Paul Ruddock - a hedge fund manager who profited from the collapse of Northern Rock and who gave £500,000 to the Conservatives.
"New Year Honours for the great, the good - and the Tory donors", is the headline in the Independent.
An outraged Daily Mirror says the PM has brought the system into disrepute.
'Housing resilience'
The FT's lead is that £4tn ($6.3tn) was wiped off the value of the markets during 2011 - a drop of more than 12%.
But the Daily Express leads on more optimistic figures, showing what it calls a "Shock Rise in House Prices".
The paper's City Editor, Peter Cunliffe, says the housing market has proved the doom-mongers wrong.
The Independent leads with the demonstrations in Syria by what it calls "emboldened protesters". The Guardian uses the same word.
'Phew Year's Eve'
An analysis of baby names in the birth announcements in the Times found Harry and William topped the boy's list, perhaps inspired by the Royal princes. Isabel was the most popular girls name.
Unseasonably warm weather will mean parts of the UK are warmer than Spain on Saturday, the Daily Mirror tells us.
The Daily Express illustrates the story with a photo of daffodils in the village of Priston near Bath.
"Phew Year's Eve" is how the Daily Star chooses to sum the story up.