Newspaper review: 'Wonderful' Jubilee year predicted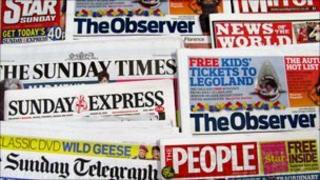 There's a mixed bag in the papers, with no single story dominating the agenda.
The Observer says a report by the Commission on Assisted Dying is to suggest that some people who encourage or assist another to die should no longer be threatened with prosecution.
Former Met boss Lord Blair, who is on the commission, tells the Independent on Sunday the law is "incoherent and unsafe" and must be changed.
He adds that it has not kept pace with "modern life".
Football v taxman
The Mail on Sunday says Customs is investigating some Premier League footballers and their clubs to find out if they are liable for any unpaid tax.
It claims the taxman has concerns about "secret perks" enjoyed by players and their families.
The Independent on Sunday reports that Hollywood actor John Travolta has been criticised for starring in a film about the late mafia boss, John Gotti.
Critics say it will perpetuate negative stereotypes about Italian-Americans.
Implant 'scandal'
An estimated fifth of ebook downloads come from illegal file-sharing sites, according to the Sunday Times.
It says the Publishers Association issued 115,000 legal threats in 2011.
The Sunday Telegraph leads on what it describes as the "true scale of the breast implant scandal".
It says Health Secretary Andrew Lansley has ordered a review of the risks of a French-made breast implant because of concern that higher numbers have ruptured than previously thought.
Jubilee year
The Sunday Times claims the pop concert for the Queen's Diamond Jubilee will be the biggest in British history.
It says Lady Gaga, Adele and Sir Paul McCartney could all perform on a vast stage outside Buckingham Palace.
The Sunday Express reckons "the Queen is set for an Annus Mirabilis" - or a "wonderful year to you and me".
Finally, the Independent On Sunday lists "music's biggest rebels" who turn 65 this year - including David Bowie, Ronnie Wood, Elton John and Iggy Pop.