Newspaper review: Predictions for 2012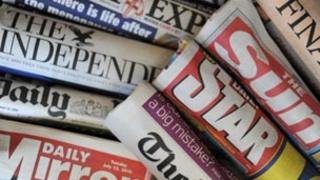 The year to come occupies the thoughts of almost all the papers.
The Sun urges its readers to defy the economic gloom and aim for an "exciting, inspiring, memorable" year.
An opinion poll in the Times suggests Britain will treat the Olympics as "a national tonic".
Max Hastings, writing in the Daily Mail, also expects "a terrific boost to national self-confidence" even if "the short-term economic outlook remains awful" and storms loom.
'Patriotism'
Leo McKinistry, in the Daily Express, says the Queen's Diamond Jubilee and Games can reinvigorate patriotism.
The Guardian thinks the coming months will add up to "a very unhappy new year" economically, and politically, a test of our "character and resolve".
And the Daily Telegraph reminds us that the problems we face are not new and we should keep them in perspective.
The Queen came to the throne, it says, at a time of rationing, when cities were bomb-scarred.
'National treasure'
The appointment of David Hockney to the Order of Merit is seen by the Guardian as his elevation to the status of "national treasure."
It recalls that the artist started out as "a 1960s radical who turned British painting on its head".
Not bad, reports the Telegraph, "for a working class Yorkshire lad".
The Independent says he is now a member of "one of the most exclusive clubs" - and we should sweep off our top hats as a gesture of respect.
'Iron Duke'
Finally, some of the papers applaud the Duke of Edinburgh after his first public appearance since hospital treatment for a heart condition.
The Sun says he showed "his legendary grit" - and "provided a lesson for shirkers a fraction of his age".
The headline in the Daily Mail states: "The Iron Duke marches back to chorus of cheers".
The Express asks what a Diamond Jubilee would be like "without the monarch's diamond geezer playing his full part?"