Newspaper review: Papers consider Lawrence verdict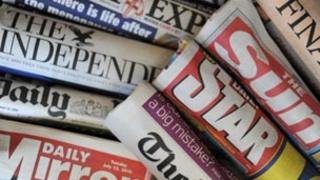 There is extensive coverage of the convictions of David Norris and Gary Dobson for the murder of Stephen Lawrence in Eltham in 1993.
In the Daily Mirror Brian Reade describes the verdicts as "a punch-the-air moment for every decent-minded person".
The Daily Telegraph pays tribute to "the courage and dignity of Stephen's parents, Doreen and Neville".
"Their common determination to win justice for their son," says the Guardian, "was the key".
The Daily Mail, which has been at the forefront of the campaign for justice, devotes 21 pages to the story.
The editor, Paul Dacre, talks of "a glorious day for British justice".
Britain 'changed'
The paper carries tributes to its coverage from the Lawrence family, David Cameron and Ed Miliband.
It is also praised by its rivals. "It should be remembered," says the Daily Telegraph, "that had it not been for the Mail's campaign there might never have been any prosecutions at all".
There's universal agreement that the repercussions of the case have changed Britain for the better - though the Times says one has to ask why an Indian student was fatally shot on Boxing Day.
A commentary in the Guardian talks of the "one dark night in Eltham that changed Britain forever".
The case it says, "brought home to middle England the evils of institutional racism".
It changed the police, the law and Britain, according to the Sun.
Re-open files?
Brian Cathcart, writing in the Independent, describes the case as a "landmark in British life" that helped to shift our understanding of racism.
The Financial Times says the verdicts go some way to redeem the reputation of the police and the legal system.
In a leader column the Daily Express says the convictions are not the end.
It says many questions remain unanswered and there will be pressure to re-open the files on Dobson and Norris's three associates.