Newspaper review: Papers consider Lawrence sentences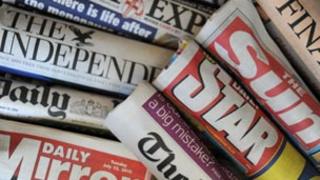 The sentences given to David Norris and Gary Dobson for the 1993 murder of Stephen Lawrence in Eltham are widely reported in Thursday's papers.
The Daily Mail and the Daily Mirror lead with the story.
The Mirror's headline carries the Metropolitan Police Commissioner's message to the other suspects in the case: "Don't rest easy in your beds".
The Mail has the headline: "No place to hide" - referring to the judge's call for other suspects to appear in court.
The Guardian says the judge's comments, about bringing other suspects to trial, caused dismay in the police.
It quotes a source who tells the paper that the chance of another conviction is "very slim".
The Sun carries an interview with TV presenter Martin Bashir, who interviewed all five suspects in 1994.
He said Norris gave him a different alibi to the one which was heard at the Old Bailey during his trial.
Norris told him he was with his girlfriend on the night of the murder but he told the court he was at home with his mother.
The Independent's front page highlights other racially-motivated murders whose perpetrators are still at large with the headline: "Now solve these".
The paper, which carries pictures of those killed, describes them as the forgotten victims of racism in Britain.
The recommendation by a panel that doctors should be allowed to help terminally ill people die if they have less than a year to live provides the Daily Telegraph with its lead.
A move to implement the proposals will probably be opposed by politicians and many medical practitioners, it says.
The Daily Express repeats its call for Britain to leave the European Union.
It fears a EU-wide financial transaction tax, saying it would hit pensions, cost jobs and harm business.
Hundreds of children who were adopted after suffering abuse and neglect are having their lives thrown into turmoil as their natural parents use social media to find them, the Times reports.
It says adoption charities are concerned that already-troubled young people are being disturbed.
Meryl Streep is pictured on several front pages at the European premiere of her new film, The Iron Lady.
She features in the Daily Telegraph, which gave the biopic about Lady Thatcher two stars out of five.
Her image also appears in the Times, which awards the film three stars. Kate Muir, writing in the paper, concludes that Streep's five-star performance is trapped in an unsatisfying three-star film.