Britons 'should send 2012 invite' to family and friends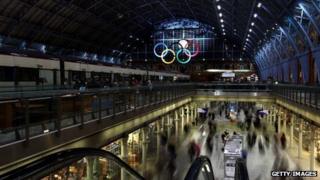 Britons are being encouraged to send online postcards inviting friends and relations to visit the UK in 2012.
Tourism group VisitBritain is stepping up its marketing push ahead of the Olympics and the Diamond Jubilee.
The government has just announced a £39m promotional campaign, with events and adverts being rolled out in 17 countries.
Culture Secretary Jeremy Hunt said 2012 was the time to "bang the drum" for British interests.
Last year, VisitBritain launched a series of films in which British celebrities, including Dame Judi Dench, extended a personal invitation to Britain.
Personalised greeting
The new phase involves an invitation from the British public, whereby people can personalise their own greeting to friends and family using a free online toolkit.
Tourism Minister John Penrose described it as an "innovative and personal way of encouraging more visitors to the UK".
"From the 2012 Olympic and Paralympic Games to the Diamond Jubilee, we want as many people as possible to come and join in the celebrations," he added.
One in four visits to the UK last year came from people visiting friends and relatives, and these visits contribute £3.6bn to the economy each year, said VisitBritain.
Chief executive Sandie Dawe added: "2012 is the year to be in Britain - with a raft of new festivals, exhibitions and events marking the Diamond Jubilee, celebrations of Shakespeare and Dickens and the hosting of the Olympic Games."
Extra business hopes
The government's campaign is backed by more than a dozen British businesses, and the cities being targeted include Los Angeles, Tokyo, Beijing and Sydney.
Mr Hunt said the government was ignoring gloomy voices who said it was wrong to promote Britain in a time of austerity.
"This is a once-in-a-generation opportunity. You have the Queen's Diamond Jubilee and the biggest sporting event on the planet happening here in the UK," he said.
"This is the moment to do everything we can to bang the drum for British business, British innovation, British enterprise and do what we can to create jobs."
The campaign hopes to attract an extra 4.6 million visitors over the next four years and a billion pounds of extra business.