Newspaper review: Papers react to independence move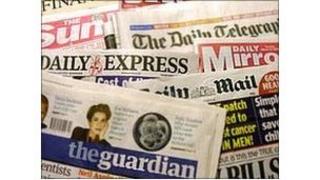 Alex Salmond's decision on the date of the Scottish independence referendum inspires the Scotsman's headline: "1,000 days to decide our future".
The paper warns it is almost inevitable that the referendum will find itself in the middle of a legal minefield.
The Times and the Guardian agree that London and Edinburgh are heading towards a constitutional crisis.
The Daily Record carries the "historic tweet" of Mr Salmond's deputy Nicola Sturgeon, announcing the 2014 date.
Ambitious nation
Writing in the Guardian, Simon Jenkins attacks the £32bn price tag for a new high-speed rail network as "money beyond all sense".
The Daily Mail declares that Middle England is in revolt. The Times, the Guardian comment and the Daily Telegraph are all on board, however.
The Telegraph calls it "an ambitious project for an ambitious nation".
Britain needs to demonstrate it has not lost the will to embark on national infrastructure projects, it says.
Steam engine
Ed Miliband's big speech on Tuesday, setting out a new direction for Labour, gets some savage reviews.
Quentin Letts in the Daily Mail says the Labour leader "is as clunky as a clodhopping clog dancer from Kloosterzande".
In the Sun's cartoon, Mr Miliband is a steam engine trying to keep pace with David Cameron's high-speed train.
The Daily Mirror urges Mr Miliband to refine his message and find an inner strength to say what he thinks.
Hat types
Buying the right present can be tricky - but what do you get for members of the Royal Family on an overseas tour?
Most common was a hat, according to a list of gifts received by the Duke and Duchess of Cambridge last year.
The Daily Telegraph says they were given 20 different types, from trendy baseball caps to elegant fascinators.
Among the more quirky items were a pair of snow goggles fashioned from caribou antlers, a papier mache model of a cassowary bird and a jar of Vegemite.