London 2012: Search for 5,000 Paralympics ceremonies performers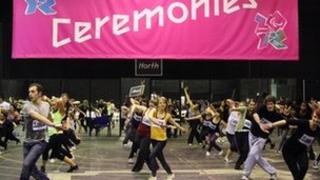 The search has begun for 5,000 volunteers to perform in the London 2012 Paralympic opening and closing ceremonies at the Olympic Stadium.
Organisers are looking for dancers, actors, percussionists and general all-round performers for the various roles.
Jenny Sealey, co-artistic director of the Paralympic opening ceremony on 29 August, said: "We're really looking for enthusiasm and commitment."
Auditions will take place in the next two months with rehearsals from June.
The Paralympic Games begin on 29 August and finish on 9 September.
Applicants must be aged 18 or over on 1 March 2012 and be able to participate in up to two auditions on evenings and weekends in February and March.
'Positive attitude'
Those chosen will be expected to take part in up to two or three weekly rehearsal sessions, each up to four hours, from June and a number of all-day rehearsals in the three weeks leading up to each ceremony. All rehearsals will take place in east London.
Ms Sealey said: "As with the Olympic ceremonies we're looking for both disabled and non-disabled applicants and previous performance experience is not required.
"Anyone with a positive attitude, huge amounts of energy and a willingness to perform in front of a stadium audience and to millions of people around the world should get onto the London 2012 website now and sign up."
Kim Gavin, artistic director of the Paralympic closing ceremony, said: "This is a great opportunity to take part in what will be the grand finale of the entire Games."
Application forms can be found on Locog's website and the deadline for receipt of applications is 13 February.
Locog said it would audition 8,000 for the 5,000 places and if applications exceeded that number a computerised draw would be used to randomly create the short list for auditions.
More than 15,000 were auditioned for 10,000 roles in the opening and closing ceremonies for the 2012 Olympic Games.