London 2012: Team Russia plans alcohol-free royal base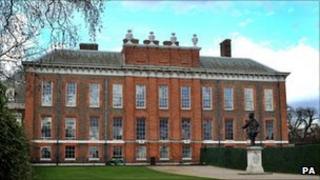 Russia's public base for London 2012 will be a "family friendly" alcohol-free space on royal land, officials have announced.
The proposed site for Team Russia Park, which would be open to the public for the duration of the Olympic Games, is Perks Field, next to Kensington Palace.
The land is currently used for football matches, archery and school events and has a helicopter landing pad.
Russia plans to turn it into a space where people can support the team.
At a Russian Embassy launch on Thursday evening, officials said they aimed to create "a little piece of Russia in the heart of London," with folk music, traditional food and "true Russian hospitality" - but no vodka.
"If people want to drink they will have to go to the big screens in Hyde Park," said Edward Cowell of event management company Eventica.
The focus for the park, which will also have fashion shows, a sports area and screens for Olympic action, is a healthy participation in sport, he said.
Russian athletes past and present will offer masterclasses and families can enjoy a kids zone.
"We would like to increase the number of people who participate in sport and engage in a healthy lifestyle," said Akhmed Bilalov, Vice President of the Russian Olympic Committee.
Putin 'expected'
Russia usually fields a formidable Olympic team, coming third in the medals table at Beijing 2008, although only managing sixth at the Winter Games in Vancouver 2010.
Mr Bilalov said: "In Russia people love sport, that is why in Vancouver everyone was very disappointed.
"For us as a nation it is very important to have a good result in London."
He added that he "expected" Russian Prime Minister Vladimir Putin to attend the Games "if the British members of parliament don't mind it, of course" - a reference to former Foreign Office Minister Denis MacShane who this week called for Mr Putin to be barred from the opening ceremony over human rights issues.
British Olympic Association chairman Lord Moynihan said that Team GB, who came fourth in 2008, would be unlikely to challenge Russia for third spot at London 2012.
"I think it would be an enormous ask. They [Russia] under-performed in Beijing and their total number of medals was substantially greater; they would expect to turn more of those into gold and it would be extraordinarily unlikely for any country to land third place over Russia," he explained.
Russia is hosting the 2014 Winter Olympics in Sochi and had proposed to promote the event during the London Games with a giant "Sochi World" showcase at Marble Arch, including a public ice rink.
However this was rejected by Westminster City Council last November and Russia is currently looking for an alternative venue.
The Royal Borough of Kensington and Chelsea has yet to approve the plans for the use of Perks Field, which will be leased from the Royal Family.
Residents, who will be consulted on the proposal, include a number of prestigious households on the road of Kensington Gardens, dubbed "Billionaires' row".
The Duke and Duchess of Cambridge live nearby when in London, and attended a charity fundraising dinner on Perks Field shortly after their wedding last April.
The residences of the French and Finnish ambassadors back onto the site, as does a property belonging to the Saudi royal family and the Embassy of Nepal.