Newspaper review: Papers mull over Scots independence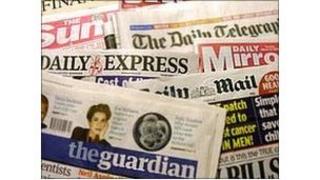 The Independent is one of several newspapers to wonder what impact an independent Scotland might have on the UK economy.
Assuming an amicable separation, one of the paper's financial journalists, Hamish McRae, thinks there would be a strong onus on Scotland remaining competitive.
Charles Moore in the Daily Telegraph suggests that the UK is an example of "living with diversity" that still looks modern by comparison with "tiny monocultural states" or "the unwieldy eurozone".
The Times talks of mounting fears for the euro, now that the credit rating of France has been downgraded.
The Financial Times says the debt crisis has "returned with a vengeance".
There had been signs of hope, says The Guardian. Then, the Daily Mirror reckons, Europe "was plunged into fresh turmoil".
Telegraph cartoonist Matt pictures the agency that revised its ratings as doing to the euro what those US marines did to the bodies of Taliban fighters.
The Sun is intrigued by the decision of North Korea to embalm the body of its former leader, Kim Jong-il, and put it on display "for private worship".
The paper calls that "the ultimate communist honour" - one bestowed on Lenin, Stalin and Chairman Mao.
Now, it says, the Korean tyrant will join the "embalmy army."
Tony Blair declines to offer his opinions on the present state of politics in an interview he has given to The Times.
But, while defending his promotion of trust and academy schools, and his introduction of university tuition fees he regrets not doing more to root out sub-standard teachers.
The Daily Express gives its strong support to the government's decision to speed up the removal of those teachers "who are letting down the profession."
The Daily Mail berates the opposition of the teaching unions, which, it says, seem more concerned about their members' rights than the life-chances of the nation's children.