Fruit and vegetables 'lacking' in UK diets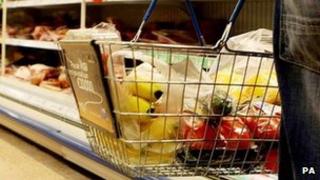 Britons are not eating enough fruit and vegetables despite nutritional advice being widely available, a study suggests.
A review of eating habits in 19 EU countries put the UK in 14th place.
The analysis was carried out by the European Food Information Council (EUFIC).
It says that on average, Britons eat 258g (9.1oz) of fruit and vegetables a day, compared with a European average of 386g (13.6oz).
The UK average also falls short of the 400g (14.1oz) minimum consumption recommended by the World Health Organisation.
Only four European countries met this target: Poland (577g), Italy (452g), Germany (442g) and Austria (413g).
The EUFIC report said: "A majority of Europeans do not reach WHO recommendations on vegetables and fruit consumption.
"Consumption varies, with higher intakes in southern compared to the northern regions."
Varying definitions
The EUFIC said that high intakes of fruit and vegetables were associated with a lower risk of chronic diseases, particularly cardiovascular disease, type 2 diabetes and certain cancers.
The report also acknowledges that the definition of fruit and vegetables varies between countries with, for example, some nations not including potatoes or fruit juice.
The body used data from various governments to compile its report, but said it recognised the statistics were often not directly comparable.
"Varying definitions of which foods belong to fruit and vegetables present a barrier to comparing data from different studies," it said. "
"Given that many national authorities regularly perform surveys of fruit and vegetable intake, standardising the survey methodology would vastly improve data comparability across different countries."