London 2012 security exercise starts on Thames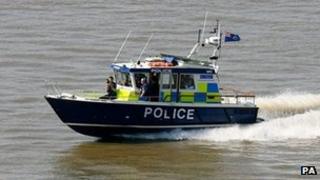 The Metropolitan Police and Royal Marines are beginning security exercises on London's River Thames ahead of the Olympic Games in July.
Up to 44 police officers, 94 military personnel, 15 boats and helicopters will take part in the training sessions on the river until Friday.
Met Assistant Commissioner Chris Allison said the exercises were "not in response to any specific threat".
The security effort for the 64-day Games has a budget of up to £600m.
In a statement, Scotland Yard said the River Thames exercises were "designed to make sure that everyone has the same level of knowledge about how the river operates and how our tactics work together".
Mr Allison said they were an example of the police using specialist military support to "mitigate against potential risks during the summer of 2012".
"This will be a summer like no other in London. The Thames runs through the very heart of our capital and will be a popular place for people who want to be part of the Olympic spirit," he said.
Minister for Crime and Security James Brokenshire said such exercises were "crucial in securing the Games".
"We are leaving nothing to chance to ensure we deliver a safe and secure Games that London, the UK and the world can enjoy," he said.
The security challenge around the Olympics will begin in earnest when the Olympic village opens on 13 July and will continue until the Paralympic village closes on 12 September. In total, 34 venues across Britain will be covered by the security operation.
Eleven police forces and the military are involved in security.
The government says safety and security funding for the Games has been protected, with the vast majority going to the police.
As well as London 2012's £600m security budget, the Games has a £2bn contingency budget, part of which can be drawn on for security purposes. These figures do not include an undisclosed counter-terrorism budget.