Newspaper review: Heroics and chaos on sunken liner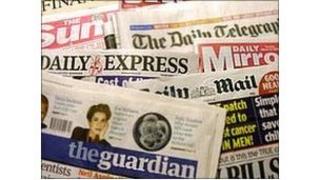 The papers have more stories of heroism and desperation from passengers rescued from the sunken cruise liner in Italy.
Sandra Rogers tells the Daily Mail: "There were big men, crew members, pushing their way past us to get into the lifeboats. It was disgusting."
The Daily Mirror claims passengers "fought each other" as they fled.
The Independent says many staff who had been waiting tables in the restaurant stepped in to lead terrified passengers off the stricken liner".
Black box
The Daily Telegraph says it had become a long-standing practice for the liner to sail close to the island to greet its inhabitants by sounding a siren.
One of the ship's two "black box" recorders shows a one-hour time lag between hitting rocks and the first call to coastguards, the Times reports.
It also claims the captain left the ship with 230 people still on board.
The Guardian says a ship's purser helped passengers into lifeboats then broke a leg searching for survivors.
'Mansion tax'
Deputy PM Nick Clegg wants a "tax the rich" Budget in March to counter claims spending cuts are unfair to ordinary families, the Independent reports.
The paper says the Lib Dems are urging the chancellor to introduce a "mansion tax" on homes worth more than £2m.
The Sun says a report from the Centre for Social Justice calls for the age at which children can be prosecuted to be raised from 10 to 12.
But the paper says the government will dismiss the idea.
Royal yacht
The Independent reports on fears that high levels of pollution in London during the 2012 Olympics could damage athletes' performance and their health.
The paper says that in certain weather conditions warm air could trap pollutants close to the ground.
Finally, the Guardian says Conservative Education Minister Michael Gove wants the public to give the Queen a new royal yacht for her Diamond Jubilee.
He said if taxpayers cannot afford it, private donations could be sought.