London 2012: Team USA chooses Royal College of Art base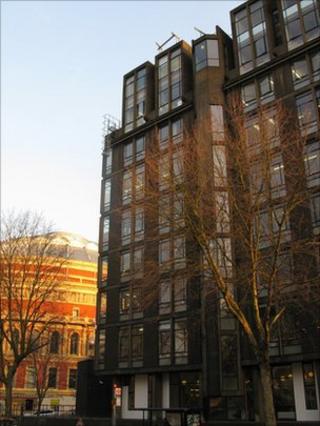 London's prestigious Royal College of Art has been chosen as the base for the US Olympic Committee (USOC) for the 2012 Games.
The venue in Kensington, west London, will host athletes, staff, sponsors and officials during the summer.
Patrick Sandusky, chief communications officer for the US Olympic Committee, said they were "thrilled".
Paul Thompson, Rector of the RCA, said they were "very honoured" to be selected by the USOC.
Mr Sandusky said: "During the 17 days of the Games, USA House [the RCA building] will play host to our sponsors, donors, athletes and other USOC guests.
"The Royal College of Art is one of London's signature locations and, in addition to the great space it offers, it provides for easy access to Olympic venues, hotels and many of London's top attractions."
The college is better known for its teaching and its shows, such as the annual Secret Postcard exhibition which features 1,000 artworks.
Its alumni include Sir David Hockney, Sir James Dyson, Tracey Emin and Sir Ridley Scott.
Torch and cauldron
Mr Thompson said the RCA was looking forward to welcoming Team USA: "The Royal College of Art has many links with the Games, from creating artworks from recycled hoarding from the Olympic site in 2008 along with podia and costumes designed by our students for more than 700 victory ceremonies."
He added that the torch and cauldron were both designs by RCA alumni. The torch was designed by Edward Barber and Jay Osgerby, while Thomas Heatherwick will be behind the cauldron.
Mr Thompson added: "2012 looks like being an exciting time for us as we also celebrate our 175th anniversary this year.
"From its 19th Century roots, through to the present day, the RCA plays a seminal role internationally in creative thought and practice. So many leading artists, writers, and designers have studied at the RCA, its influence over 175 years has profoundly shaped and enhanced modern life."
Team USA will train at the University of East London in East Ham.
Last week it was announced the proposed site for Team Russia Park, which would be open to the public for the duration of the Olympic Games, is Perks Field next to Kensington Palace.
Loughborough University will be the official preparation camp headquarters for Team GB and Japan.