Roman Abramovich 'deceived' Boris Berezovsky court case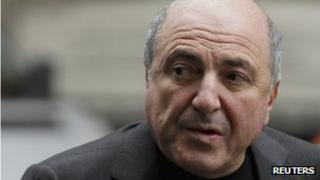 Roman Abramovich produced a "cynical and deceitful manipulation of the trial process" in his High Court battle with Boris Berezovsky, a judge has heard.
Laurence Rabinowitz QC said Chelsea FC owner Mr Abramovich had shown an "apparent willingness and ability to manufacture evidence to suit his case".
Russian oligarch Mr Berezovsky, 65, is suing Mr Abramovich, 45, for £3bn in a Commercial Court trial in London.
Mr Abramovich denies breach of trust and breach of contract.
'Colluded' with witnesses
Mr Rabinowitz, the barrister leading Mr Berezovsky's legal team, told Mrs Justice Gloster that Mr Abramovich had "colluded" with witnesses to put forward a case "directed solely" at defeating Mr Berezovsky's claim "without regard to the truth".
Jonathan Sumption QC, the lawyer leading Mr Abramovich's legal team, has accused Mr Berezovsky in court of being "persistently and deliberately untruthful" when giving evidence about his dealings with Mr Abramovich.
He told the judge that Mr Berezovsky had "made up the facts" on "many occasions".
Mr Berezovsky's claim is that Mr Abramovich "betrayed" and "intimidated" him into selling shares in Russian oil company Sibneft for a "mere $1.3bn" (£800m) - "a fraction of their true worth".
Fled Russia
Mr Abramovich denies the allegations and denies that Mr Berezovsky is entitled to damages.
He says Mr Berezovsky was paid millions of pounds for his services as a "political godfather" but was not a business partner.
The court has heard that Mr Berezovsky "fled Russia, never to return" in late 2000 after falling out with then-president Vladimir Putin.
Mr Berezovsky travelled to France before settling in England.
Mr Abramovich and Mr Berezovsky were both in court to hear Mr Rabinowitz outline his submissions to the judge.
The case continues.