Somali famine: Situation 'still desperate' warns agency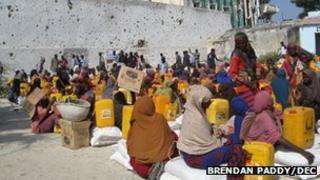 Six months after the first declaration of famine in Somalia, hundreds of thousands remain at risk, the Disasters Emergency Committee is warning.
Tens of thousands of people have already died after what is said to be East Africa's worst drought for 60 years.
A DEC appeal raised £75m helping 1.3 million people but four million need aid, said the organisation.
A spokesman for the DEC said the situation was still "desperate".
In November three areas of Somalia were downgraded from famine zones.
Improving conditions have meant the faminine designation could be lifted for Bay, Bakool, and Lower Shabelle, according to the United Nation's Food Security and Nutrition Analysis Unit.
But the DEC says 250,000 people in other parts of the country are still living in areas affected by famine and millions more urgently need food aid.
Ongoing help
Speaking ahead of Friday's sixth month anniversary of the famine, DEC spokesman Brendan Paddy told BBC News: "It's still extremely grim.
"In some of the areas the famine designation has been lifted but there are still extremely high rates of malnutrition, particularly among children under five, and very high death rates.
"So the situation remains very desperate."
He has just returned from Mogadishu and Wajir in northern Kenya, which was also badly affected by the drought. Somalia has been the worst affected country in the Horn of Africa.
Where other regions have seen some improvements, Mr Paddy said Somalia would need help for some time to come.
Even where there had been rains and conditions were improving, people have not been able to return home.
"There are huge numbers of displaced people, some have gone to Mogadishu - the situation there is better but it's not a place you want to flee to.
"The largest refugee camp is at Dadaab, in north eastern Kenya. Many people had fled there because of fighting amongst the various fiefdoms and then lots more people arrived because of the famine."
Work has had to be put on hold because of the situation, he said.
'Far from over'
Charity Islamic Relief, which is one of the DEC's 14 member charities, is also calling for more international aid and an increased diplomatic effort.
UK Director Jehangir Malik, who has also just returned from Mogadishu, said the crisis was "far from over".
"Things are certainly better now than they were six months ago but more aid and greater diplomatic effort are urgently needed to improve access to the areas most in need and help fund programmes so that displaced people can rebuild their lives."
The £75m raised by the East Africa Crisis Appeal is the third largest sum ever received by the DEC.
Initially the money was used for food, water and medical aid but Mr Paddy said help would be given to provide longer term support, such as digging wells and replacing livestock.
He also said political progress was needed at a Somalia conference due to take place in the UK next month.