No prosecutions over Taliban finger removal - MoD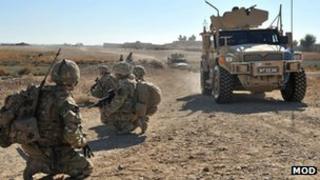 Three British soldiers accused of chopping off the fingers of dead Taliban will not be prosecuted.
Military police investigated reports the fingers may have been kept as a trophies of war but found they had been taken for forensic testing.
The case involved two officers and a soldier thought to be from the Argyll and Sutherland Highlanders (5 Scots).
Their actions were against policy but the troops' explanation they had been under fire was accepted as mitigation.
The Ministry of Defence says training for all servicemen and women deploying on operations will now be reinforced to ensure that they understand that the removal of body parts from enemy killed in action is not permitted.
The claims centred on the battalion's tour of duty in Afghanistan between September 2010 and April 2011. They were tasked with training Afghan police.
The investigation found that although fingers were removed from insurgents who had been killed, the digits were placed in evidence bags and submitted for evidence before being disposed of.
The MoD says there was nothing to suggest the fingers were removed for any other reason than forensic testing.
Soldiers from the Argyll and Sutherland Highlanders, 5th Battalion, The Royal Regiment of Scotland, are recruited in Scotland but are based in Canterbury, in Kent.