Newspaper review: Cruise disaster coverage continues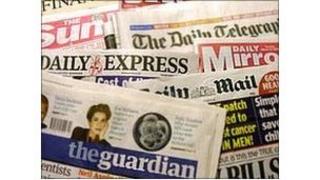 A week after the Costa Concordia hit a rock then ran aground and capsized, the Times considers the alleged behaviour of her captain and draws wider lessons.
"The fact remains that responsibility ultimately lies with the individual in charge," the paper says.
Jeremy Clarkson, in the Sun, thinks the coverage has been out of proportion.
He wonders whether readers knew that four months ago 200 people died when a ferry sank off Zanzibar, or five trawlermen died off Ireland this week.
School standards
The Guardian carries claims that two undercover policemen secretly fathered children with political campaigners.
The paper says the children have grown up not knowing that their biological fathers - whom they have not seen in decades - were police officers.
Secondary schools that fail to stretch the brightest children are to be named and shamed, says the Daily Telegraph.
Schools Minister Nick Gibb says the move is part of a drive to stop schools "playing" the league table system.
Television adverts
The Daily Express has a pop at politicians over potholes.
A report by retailer Halfords suggests drivers encounter 15 of them on an average journey - 12% higher than a year ago.
The Daily Mail reports that private for-profit abortion clinics will be allowed to advertise on TV and radio.
The paper predicts a storm of controversy and says Culture Secretary Jeremy Hunt is understood to be "very unhappy" about the decision.
Talented singer
There are warm tributes to Etta James, the R&B legend who has died at the age of 73. A picture of her fills most of the front of the Independent.
The paper describes her as a "mercurially-talented singer whose career spanned six decades".
To the Times, she was "the soulful voice of truth".
"She had a captivating voice," it says, "deep, strong and powerful, but with flashes of suppressed vulnerability forever bubbling below the surface."