Queen 'delighted' by Diamond Jubilee parties plan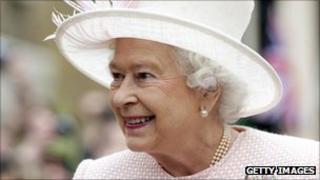 The Queen has given her backing to a series of street parties planned to mark her Diamond Jubilee.
The Big Jubilee Lunches will be held across the UK on 3 June to commemorate her 60 years on the throne.
They involve neighbours and friends gathering for a traditional street party or a picnic lunch.
The Queen sent a letter to the organiser, the Eden Project tourist attraction in Cornwall, saying she was delighted" by the plan.
The Big Lunch project, started in 2009, encourages people to hold street parties once a year with neighbours. Last year, almost two million people took part.
This year, the idea aims to emulate the street parties which greeted the Queen's coronation in 1953.
The Queen wrote: "I am delighted that the organisers of The Big Lunch are helping people from across the United Kingdom and further afield to hold Big Jubilee Lunches as part of the celebrations to mark my Diamond Jubilee in 2012.
"I send my very best wishes to you and all of those who will be present for what I hope will be a most memorable and enjoyable event."
Peter Stewart of the Eden Project said he was "enormously grateful" for the message of support.
"Some 10 million people came out in 1977 to celebrate the Queen's Silver Jubilee so we hope a large number of people will take part in The Big Lunch for the first time in 2012 - joining the millions of us that have been doing it for the last three years," he said.