Newspaper review: Papers focus on welfare changes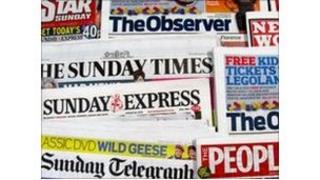 The Sunday Times claims bishops are at war with the coalition after a senior minister accused them of trying to block welfare reform in the Lords.
Work and Pensions Secretary Iain Duncan Smith accuses bishops of failing to show concern for "ordinary people".
The Observer carries official figures that suggest 100,000 children would be pushed into poverty by a benefits cap.
The Sunday Telegraph says Business Secretary Vince Cable is pressing for a mansion tax on properties over £2m.
Cowardice question
The Costa Concordia tragedy still attracts much analysis and debate.
The Sunday Express and the People focus on the captain's promise, revealed in a new audio recording, that he would be the last to leave the cruise ship.
The Independent on Sunday believes the world may have rushed to shower its scorn on the captain, but asks can we be sure we would do any better?
It suggests that cowardice seems so despicable because we worry that we would also run away.
Energy switch
The Sunday Express claims millions of households are in line for big payouts resulting from inaccurate meter readings by energy companies.
It says ministers are looking at giving the regulator Ofgem the power to compensate people directly.
The Sunday Mirror says hundreds of thousands of customers are turning their backs on the big energy suppliers and switching to smaller firms.
These companies are more responsive to people's needs, says the paper.
Gold coins
Finally, the Sunday Times reports that the wreck of a Royal Navy warship is to be raised from the sea bed.
HMS Victory, the predecessor of Nelson's flagship, sank off the Channel Islands in 1744.
The ship is believed to have more than 100 bronze cannon and four tonnes of gold coins worth half-a-billion pounds.
The paper says it would be the most important excavation of a British sailing ship since the raising of the Mary Rose nearly 30 years ago.