Death of UK soldier in Afghanistan sparks investigation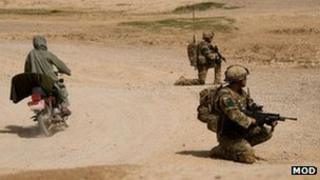 An investigation is under way after a soldier from 200 Signals Squadron died at a Nato patrol base in the Nahr-e Saraj district in Helmand, Afghanistan.
The unnamed soldier's next of kin have been informed.
Task Force Helmand spokesman Lt Col Gordon Mackenzie said the death was not thought to be as a result of hostile action.
The number of UK personnel killed in Afghanistan since military operations there began in 2001 now stands at 396.
Lt Col Mackenzie said: This tragic death, at a base in Nahr-e Saraj, is now under investigation, but is not thought to be as a result of hostile action.
"Our heartfelt condolences are with his family and friends at this time of great sadness."
The latest death follows that of Rifleman Sachin Limbu, from First Battalion, The Royal Gurkha Rifles, who was wounded in an explosion in Afghanistan in June 2010 and died in hospital in Birmingham on 2 January.