Newspaper review: Papers focus on £1tn debt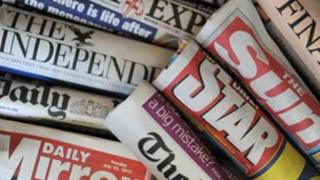 The Financial Times pictures George Osborne chatting to his German and Danish counterparts at a meeting of EU finance ministers on the day it was announced UK debt had passed £1tn.
"A penny for your thoughts, chancellor", is the FT's caption.
The Times notes that Britain is now one of a small band of countries measuring its debt in trillions - including Italy, the United States and Japan.
It adds that figures out later are expected to show that the UK economy shrank at the end of last year.
The Guardian says the Governor of the Bank of England, Sir Mervyn King, has warned that the path to recovery would be "arduous, long and uneven".
The Daily Mail celebrates an article written for the paper by the former Archbishop of Canterbury, Lord Carey.
He criticises the Anglican bishops who joined the rebellion in the House of Lords against government plans to cap benefit payments at £26,000 a year.
Lord Carey says the current welfare system rewards "fecklessness".
Distinctly less supportive of the government is Sir Mick Jagger.
The Daily Mirror says he backed out of an event designed to promote Britain at the World Economic Forum in Davos, after complaining of being "used as a political football".
The Rolling Stones front man says he has "always eschewed party politics".
A senior government source has insisted the event, being hosted by David Cameron, is "non-political", adding that there was never any suggestion that Sir Mick was a Conservative.
Fears that Britain is heading for a so-called "integrity crisis" provide the lead for The Independent.
It says research carried out by the University of Essex suggests people are becoming less honest.
Lying, having an affair, driving while drunk and buying stolen goods are more acceptable than they were 10 years ago.
Finally The Guardian reports beards are now acceptable in Disneyland. Disney has opened its theme parks to staff with facial hair or even goatees.