Blackberrys for police 'not providing value for money'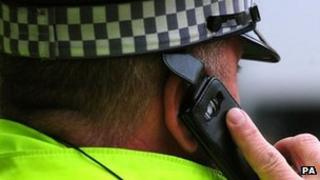 An £80m Home Office programme to give police forces Blackberrys and other mobile devices has been criticised by the National Audit Office.
In its report the NAO said only one in five forces has used the new technology effectively.
Five years ago the Labour government began providing police with electronic data handsets, to cut how long they spend at their desks doing paperwork.
But auditors said the programme had not yet delivered value for money.
Margaret Hodge, chairwoman of the Commons Committee of Public Accounts, said: "If value for money is to be achieved, mobile technology will need to be used to drive improvements that will reduce paper work and make police work more efficient."
The NAO said 41,000 Blackberrys and other devices had been given out to officers in England, Scotland and Wales.
It said there have been some benefits - officers are out of the station for an extra 18 minutes per shift, on average, and spend less time processing information.
But the report said the devices were distributed without assessing how many were needed and how they would be used.
'Robust analysis'
Three police forces ended up with more devices than officers, while 19 forces only had enough for half their officers.
The NAO called for future investment of this kind to be based on "robust analysis".
Amyas Morse, head of the NAO, said: "In the majority of forces, the benefits have not so far extended beyond simply allowing officers to spend more time out of the station.
"There is still the opportunity to achieve value for money, though, if more forces use the technology to improve the efficiency of their processes and make savings in their back-office activities."
The NAO survey of 32 of the 43 forces in England and Wales found 22 cited drawbacks with mobile technology projects, with only 10 claimed "cashable savings".