UK soldier killed in Afghanistan, MoD announces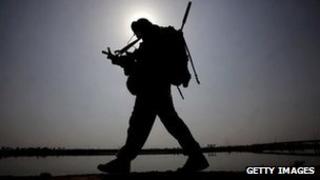 A British soldier has been shot dead in Afghanistan, the Ministry of Defence has announced.
The soldier, from 1st Battalion The Yorkshire Regiment, was shot on Friday in the Khar Nikah area of Helmand.
Lieutenant Colonel Gordon Mackenzie said the soldier was "fatally wounded in an insurgent attack while on a foot patrol to disrupt insurgent activity".
His next of kin have been informed. The number of British military deaths in Afghanistan since 2001 stands at 397.
Lt Col MacKenzie said the ministry's deepest condolences were with the soldier's family and friends.
His family had asked for a period of grace before more details were released, he said.
Some 500 of around 9,500 British servicemen and women in Afghanistan are due to be brought home in 2012 and Prime Minister David Cameron has indicated that more will leave in 2013.
He has said he wants British soldiers to end combat operations in the country by 2014.