Afghanistan's Hamid Karzai thanks UK for 'sacrifice'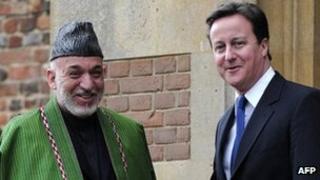 Afghanistan's President Hamid Karzai has thanked the British people for sacrificing "blood and treasure" for the future of his country.
His comments followed talks with David Cameron at the UK prime minister's Buckinghamshire residence, Chequers.
The leaders signed an agreement detailing how their countries would work together after UK combat troops withdraw from Afghanistan in 2014.
Mr Cameron said the relationship would be based on diplomacy, trade and aid.
'A steadfast friend'
Mr Karzai said the agreement was "one more step" in Britain's long-term commitment to Afghanistan.
He said Britain had been Afghanistan's "steadfast friend", particularly over the past 10 years.
Speaking the day after the death of a UK soldier in Helmand province - the 397th military death since 2001 - Mr Karzai said Britain had sacrificed "blood and treasure" in his country.
"The Afghan people recognise that, respect that and remember that".
Mr Karzai said Britain's continued help would move Afghanistan "towards becoming a fundamentally strong democratic state, free of terrorism".
He added: "May I convey to the people of Britain the gratitude of the Afghan people for all that Britain has offered Afghanistan, for having been ready to sacrifice, and for having been ready to share Britain's hard-earned taxpayers' money with Afghanistan for the betterment of the Afghan life, and for a better, more secure vision and - as a consequence - entire world."
Mr Cameron, after meeting Mr Karzai, said it would be in the interests of Afghanistan and Britain to have a strong relationship "to make sure that the future Afghanistan is democratic and stable and free of the terror of the past".
He said the build-up of the Afghan National Army and Afghan Police Force was on target, and it was one of the keys to security.
"My message to the Afghan people is that we want what you want... We want that country to be run by the Afghans for the Afghans, with an Afghan army and police force to provide that security and that stability."
Mr Cameron was also expected to have signed an agreement to build an officer training college in Afghanistan, based on the British Army's Royal Military Academy at Sandhurst.
French withdrawal
Mr Karzai's visit to the UK was his third stop after he held talks in Italy and France.
French President Nicolas Sarkozy earlier announced that France would bring forward its troop withdrawal by one year, to the end of 2013. It followed the deaths of four French soldiers in Afghanistan's Kapisa province.
Mr Karzai said in Paris on Friday that Afghan troops would replace the French.
BBC world affairs correspondent David Loyn says neither leader attacked France for its decision to pull out its troops early.
Mr Cameron said there would be opportunities for different countries to reduce their troop numbers by 2014 but he said it would depend on the transition process - a comment described by our correspondent as a coded criticism of President Sarkozy for putting domestic politics first.
Mr Cameron said: "I don't want to see some sort of cliff edge in 2014 - when all of the remaining troops come out at once, but clearly, between now and 2014 the rate at which we can reduce our troops will depend on the transition to Afghan control in the different parts of Afghanistan."
France currently has about 3,600 soldiers in Afghanistan, and wants to bring home 1,000 of its soldiers this year, with only a few hundred left after 2013.