Newspaper review: Papers reflect anger over RBS bonus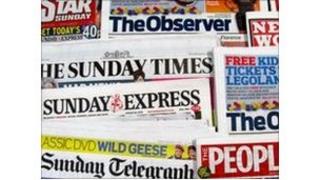 Anger surrounding the £963,000 bonus of RBS chief executive Stephen Hester is reflected in nearly all of the papers.
"£35m and counting" is the Independent on Sunday's headline as it claims to expose the "breathtaking" details.
By not blocking it, David Cameron finds himself on the wrong side of the argument, the Sunday Telegraph's Matthew D'Ancona says..
The Sunday Times says pressure is intensifying on the government to act, while the Observer claims other bosses at RBS may also receive bumper bonuses.
'Lost generation'
The People complains that we still hear no contrition from the bankers for bringing the UK's economy to its knees.
EU leaders plan to spend £22bn on helping a "lost generation" of young people find work, the Observer reports.
It says youth unemployment has reached 51% in Italy and Spain, with those who can find work struggling with low salaries and little job security.
The Sunday Times's leader argues the rest of the world does not owe an uncompetitive Europe a living.
Treasure trove
China's new rich can't resist buying antique British furniture, according to the Sunday Express.
It says items shipped there are nearly 30 times their price in Britain.
The Mail on Sunday lists some examples, including a heavily carved English bookcase which fetched £10,000.
The paper leads on a call by Tottenham Labour MP David Lammy for the laws against smacking children to be relaxed in order to prevent a repeat of last summer's riots in England.
'Having a laugh'
The loss of Britain's Harriers means it would not be able to recapture the Falklands if Argentina seized control again, ex-Army chief Gen Sir Michael Jackson tells the Sunday Telegraph.
But he stresses defences in the South Atlantic are better now than in 1982.
Finally, England's cricketing woes against Pakistan led the People to declare "Top of the world? You're having a laugh".
For Vic Marks in the Observer, England's batting lineup demonstrated the resistance of soggy blotting paper.