Newspaper review: Cameron's EU standing unpicked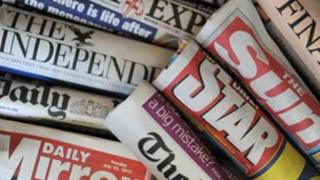 The papers mull over the PM's approach to Monday's Brussels summit after his earlier decision not to ratify a key treaty.
The Times carries a photo of the PM and German Chancellor Angela Merkel cheek to cheek, and suggests he has answered her call for closer European ties.
The Daily Express says he can be seen as having "gone soft" on Europe and warns Britain may feel he has snatched defeat from the jaws of victory.
The outcome of the summit is a victory for Mrs Merkel, according to the Financial Times..
'Doomed course'
The Independent's Andrew Grice says Mr Cameron's U-turn is now complete and he will have to placate the europhobes who thought he was one of them.
The Daily Mail says he cannot do much to dissuade France and Germany from their doomed course without the risk of being reviled as the man who sank the euro.
Elsewhere, the Independent claims the fall in university applications is "the true impact of tuition fee increases".
It says the decline could lead to course closures and redundancies.
'Toxic issue'
The fallout of RBS boss Stephen Hester forgoing his £1m bonus continues.
The Guardian says Mr Hester's decision was the right one - but it solves nothing beyond the immediate problem of handling the politics of a toxic issue.
The Daily Mail's Richard Littlejohn accuses Ed Miliband of "hypocrisy" for going into full lynch-mob mode despite being in the Labour cabinet that signed off on Mr Hestor's deal.
The Independent says the City widely supports the UK's worst-paid bank boss..
'Stress and depression'
The inquest into the death of Wales football coach Gary Speed preoccupies the Sun, which describes in detail the tearful evidence from his widow Louise..
The Times says the inquest left the big question - why? - unanswered. .
The hearing, it says, did not tackle questions about the nature of stress and depression among elite sportsmen.
The Star gives advice on how to cope if you are feeling suicidal. It quotes the Samaritans saying talking about your situation can help alleviate despair.